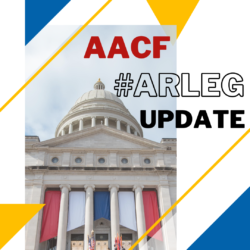 When Governor Asa Hutchinson announced last month his intention to call a special session of the Arkansas General Assembly, with a focus on tax cuts, we knew we would have our hands full.
For months, lawmakers have been talking about Arkansas's $1.6 billion "surplus," claiming it as evidence that the state is collecting too much in taxes from Arkansans.
But here's what we know:
Every state needs revenue to pay for critical services, like roads, public schools, libraries, fire stations, etc. If we cut income taxes too far, we run the risk of not having enough revenue to pay for things we all need and would likely have to increase other taxes, like sales taxes.
To call the $1.6 billion budget surplus a "surplus" is misleading, for two primary reasons.

The state budget is being propped up by one-time federal spending meant to help states during the COVID-19 pandemic.
The Legislature has allowed many programs and services – like early childhood education, before- and after-school programs, public school staff and teacher salaries, and programs for Arkansans with disabilities – to go underfunded, flat-funded, or flat-out never funded.

By accelerating the tax cuts passed in 2021, which primarily benefit Arkansas's wealthy and corporations, with a national recession potentially looming, the Legislature is putting vital services at risk.
Thank you for your advocacy
We want to say a special Thank You to the dozens of you who called and emailed your elected officials. While the tax cuts passed, your lawmakers know where their constituents stand on prioritizing kids.
We hope you will carry this momentum into the 2023 Regular Legislative Session, as we can be sure there will be many bills to support and defend against that will affect the lives of Arkansas's children and families.
If you know someone who would be a strong voice for kids, please send them this link so they can join us: https://www.aradvocates.org/issues/be-an-advocate/sign-up-for-action-alerts/ 
Accelerating tax cuts
AACF Senior Policy Analyst Bruno Showers testified before the Senate Revenue and Tax Committee and the House Committee on Revenue and Taxation on Tuesday, August 9, asking legislators to vote against SB1 and HB1002, instead letting the tax cuts phase in as previously enacted, and to use the $1.6 billion in revenue to invest in addressing the hardships everyday Arkansan families are facing.
Disappointingly, the identical bills passed both chambers and were signed by the Governor.
You can read our statement here.
School safety
On Thursday, the Arkansas Legislature passed SB2, and Gov. Hutchinson signed it into law. The new act will allow the Arkansas Department of Education to receive $50 million in general revenue funds to go toward school safety grants. And while everyone wants our children to be in safe and healthy learning environments, some school safety practices that we could now see implemented can cause more harm than good. 
Also this week
Arkansas's Child Well-Being Rank Falls to Bottom 10
On Monday, August 8, the Annie E. Casey Foundation released the 2022 KIDS COUNT® Data Book, a 50-state report of recent household data analyzing how children and families are faring. Arkansas fell in rank to 43rd, making Arkansas one of the hardest states in the country to be a child. Read more here.
Governor's New Initiatives
On Tuesday, August 9, the same day the General Assembly convened for the special session, Gov. Hutchinson held a press conference to announce initiatives to address child welfare and maternal health care. You can watch the press conference here. And read our statement here.
What about Teacher Raises?
After a rally at the Capitol on Sunday, August 7, calling for increased salaries for Arkansas's public school teachers and staff, a bipartisan group of legislators filed bills in both chambers seeking to do just that. However, as the issue of teacher raises was not on the agenda for this special session, the Legislature was not required to consider either bill. Resolutions were made to extend the session by 15 days to allow for the consideration of these bills, but both the House and the Senate voted to adjourn.