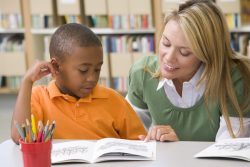 As most Arkansas kids went back to school this week for a new year, we should remember that not all kids had summers that they are eager to "show-and-tell" about. The educational disparities between the haves and have-nots are perhaps never as vast as they are during the summer months. Many kids have been able to keep their minds and bodies busy since June at day camps, STEM workshops, art and music classes, sports activities, and much more. More importantly, many of these kids have had someone read to them and with them each day and take them to bookstores and libraries to keep their stack of books piled high.
Meanwhile, other kids have had to survive all summer without proper nutrition, safe places to learn and play, and without trained staff or caregivers to provide supervision and guidance—much less, any kind of reading activities or structured enrichment. In many cases, these are the children of hardworking Arkansans who work lower paying jobs and who struggle to meet basic needs, let alone the added expense of summer activities. Many of their children have missed breakfast and lunch every day for three months, without access to the warm meals that public schools provide. Other children have experienced trauma and neglect, without the help of school counselors, teachers, coaches, and other caring adults they depend upon during the rest of the year. As a result, these children experience a severe "summer slide"—meaning that they lose as much as two to three months of learning from the previous year, putting them further behind with each passing season. Some children are left up to three years behind their peers by the end of fifth grade, due to summer learning loss alone.
Our kids' needs are great, but the solution is simple: Arkansas Advocates for Children and Families (AACF) has advocated for decades to make sure that all kids have access to quality after-school and summer programs. We work with partners such as the Arkansas Out of School Network (AOSN), the Arkansas Campaign for Grade-Level Reading (AR-GLR), the Arkansas Opportunity to Learn (OTL) Campaign, and many others to advocate for funding for research-based programs and to encourage school districts to use federal Title I and state National School Lunch Act (NSLA) poverty funding to help fill in the  summer learning and  after-school opportunity gaps.
This year, the Arkansas Community Foundation funded research by students at the Clinton School of Public Service to study summer pilot programs at five Arkansas sites: Park Avenue Elementary School in Stuttgart, Booneville School District, Mt. Judea Area Alliance, Hot Springs Family YMCA/Lakeside Primary School, and Ouachita Children's Center/Hot Springs School District. Preliminary results show significant improvement in reading skills at each site on pre- and post-tests and/or comparisons to other students who did not have the benefit of participating in the program. For example, at the Mt. Judea Area site, almost a third of kids participating increased their reading score between the spring and fall by an average of 8.75 points.
Policymakers, school administrators, and funders should pay close attention to these findings—which confirm the substantial body of research on the effectiveness of summer programs across the nation. Our state must begin to invest much earlier in our children's education and well-being and close the summer learning gaps before they emerge. Finally funding the Positive Youth Development Grant Program Act, which has not been appropriated funding since the bipartisan bill was passed in 2011, would be a great place to start. Click here to learn more about the PYD Act and how you can advocate for more enriching summer learning for our kids who need them most.