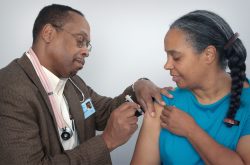 Arkansas's intention to convert its Medicaid dollars into a block grant is another risky experiment that fails to protect the needs of Arkansas residents. Despite what some state officials might say, block grants limit the dollars our state would have to help the very people Medicaid is designed to protect – the children and families too often left behind. They leave taxpayer dollars on the table in Washington instead of coming home to help provide health care to the people of Arkansas.
Arkansas is one of 36 states that expanded its Medicaid program under the Affordable Care Act to cover low-income uninsured adults. In 2013, Arkansas made history in passing a bipartisan measure called the Private Option to extend health care coverage to eligible adults by using federal dollars to purchase private insurance plans. This was a good decision for more than half a million uninsured Arkansans. This program, now called Arkansas Works, provides coverage for over 250,000 of our fellow citizens in Arkansas.
Medicaid block grants and per capita caps are just another way to cut people off — including parents — from their health insurance or to cut the benefits they need. Research shows when parents are covered, kids are more likely to be covered too. And with the number of uninsured kids already increasing in Arkansas, we should be doubling down on efforts to keep parents and children covered. We call on our state's leaders to keep Medicaid strong to ensure parents and kids can keep their health insurance.
Medicaid helps in times of crisis, allowing states to respond to unpredictable events like the opioid crisis, natural disasters and outbreaks of the flu. It also provides an important safety net during economic downturns when people lose jobs and the health insurance those jobs provide. We need to respond to emergencies when they occur. Block grants take away Arkansas's flexibility to respond to emergencies like tornadoes, floods or a recession and mean there wouldn't be needed funds to act when disaster strikes.
We've seen in poll after poll that voters value Medicaid and want common sense efforts to protect and expand it – not take rushed political steps that take us backward and fail to protect the health and financial security of low-income Americans the program was designed to help.