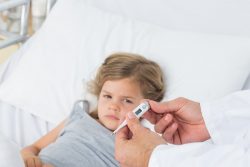 Things aren't always as simple – or as good — as they seem.
Today's headline, that the U.S. House of Representatives voted to reauthorize the Children's Health Insurance Program, seems worthy of celebration. And certainly, we applaud this move in the right direction. But as is all-too-often the case in Washington, the devil is in the details.
In this case, the details surround how CHIP (which helps fund ARKids First in Arkansas) will be funded. It's created an unnecessarily partisan divide, and it's not even clear that the Senate will consider this version.
It shouldn't be like this. Not over something that Republicans and Democrats agree should be a priority. After all, this is children's health we're talking about.
The version that passed the House today would pay for children's health insurance in part by making some concerning policy changes. These include:
Creating a new means test for Medicare, which would increase premiums for higher-income enrollees;
Cutting funding for the Prevention and Public Health Fund, which would reduce resources for the Centers for Disease Control and state public health departments; and
Change the grace period for a late payment on an individual health plans from 3 months down to 1 month, which could result in costly gaps in coverage for families experiencing a temporary hardship.
These are all ideas that divide the political parties in Congress. Because of that, it's unlikely to pass in the Senate.
Certainly, we want Congress to reauthorize CHIP, and to do it with haste. Authorization for the program expired 33 days ago, and some states will start the process of canceling their CHIP programs in a matter of weeks. One really good thing about the House bill is that it creates a five-year reauthorization, giving parents and state governments more of a long-term reassurance about the future of the program. (The last one was for just two years.)
But a partisan funding plan – devised in full knowledge that it would put the program at risk – is not what children deserve. The 9 million children who are covered by CHIP – 121,000 in Arkansas – deserve a "clean" CHIP reauthorization, one that doesn't take health care away from others in need.
Until we have agreement from both the House and Senate, Congress is not doing its job to protect children. We can't let partisan debates derail kids' coverage. Arkansas kids and families can't afford to wait.