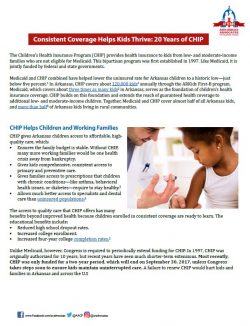 The bipartisan Children's Health Insurance Program (CHIP), which turns 20 this year, provides health insurance to kids from low- and moderate-income families who are not eligible for Medicaid. Like Medicaid, it is jointly funded by federal and state governments.
Medicaid and CHIP combined have helped lower the uninsured rate for Arkansas children to a historic low—just below five percent. In Arkansas, CHIP covers about 120,000 kids annually through the ARKids First-B program. Medicaid, which covers about three times as many kids in Arkansas, serves as the foundation of children's health insurance coverage. CHIP builds on this foundation and extends the reach of guaranteed health coverage to additional low- and moderate-income children. Together, Medicaid and CHIP cover almost half of all Arkansas kids, and more than half of Arkansas kids living in rural communities.
Unlike Medicaid, Congress is required to periodically extend funding for CHIP. In 1997, CHIP was originally authorized for 10 years, but recent years have seen much shorter term extensions. Most recently, CHIP was only funded for a two-year period, which will end on September 30, 2017, unless Congress takes steps soon to ensure kids maintain uninterrupted care. A failure to renew CHIP would hurt kids and families in Arkansas and across the U.S.
Read more about CHIP, its importance, and the need to reauthorize it in our latest one-pager. Also, watch our short video below: