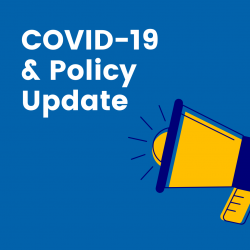 August 7, 2020
Ensuring a complete census in Arkansas just got harder, and negotiations on federal coronavirus relief legislation remain in limbo. These and other issues are included in this edition of your Arkansas Advocates' policy update.
Census deadline pushed up a month, shortening count
This week the Census Bureau announced that it is pushing up the deadline to complete the census to September 30, leaving less than two months for the Bureau to conduct door-to-door follow up at households that have not yet completed the Census. Nationally, only 63.1 percent of households have completed the form. That number is 57.7 percent in Arkansas, though some communities and counties have much lower response rates. With such a low self-response rate, it is highly unlikely that the census count will be close to accurate.
The reason given for pushing up the deadline a month from the previous October 31 deadline was to meet the "statutory deadline of December 31, 2020, as required by law and directed by the Secretary of Commerce." However, there is also a constitutional requirement that the census count each person.
Just a 1 percent undercount could cost Arkansas nearly $1 billion over the next decade in federal funds for programs that kids and families rely on, including health care, food assistance, and education. Census data is also used to determine how voting districts will be drawn over the next decade and how many representatives we will send to congress.
If you have not completed the census yet, you can do so at 2020census.gov or by calling 844-330-2020. Tell your friends and family to take the census. And help us spread the word with ideas, volunteer opportunities (from the safety of your home), and resources from Arkansas Counts.
Back-to-school plans
Education Secretary Johnny Key announced Wednesday that most schools will be required to offer five days a week of in-person education when school starts on August 24. Key said in a "clarification" memo that not providing onsite educational opportunities would create inequity, in violation of the state constitution's educational requirement. Districts that had been planning a hybrid in-person and virtual approach, like Fayetteville and North Little Rock, must reconfigure their plans for the school year.
The memo prompted a response from the Arkansas Education Association, the state teachers' union, criticizing the state's overall plans and emphasizing that such decisions should be made at the local district level.
Meanwhile, the state has established a Ready for School Resources Center to field calls from Arkansans with questions regarding the reopening of schools. The operating hours are 8 a.m. to 4 p.m. Monday through Friday. The number is 1-833-353-6050.
Federal COVID bill debate drags on
Members of Congress and the White House are still in negotiations over what to include in the latest round of pandemic relief from the federal government. Late last month, the Senate released the $1 trillion HEALS Act, a counter COVID-19 relief package to the $3 trillion HEROES Act passed by the House in May. While the debate continues, supplemental unemployment benefits provided by the CARES Act expired last week. The payments have been a major source of contention between the parties. The HEALS Act would decrease the weekly supplemental unemployment benefits from $600 a week to $200 a week.
Also at issue are whether to protect renters from eviction in federally subsidized housing (those protections expired last month), whether to provide more aid to state and local governments that have seen their revenue drop, whether to increase Supplemental Nutrition Assistance Program funding and whether to suspend payroll taxes, among other disagreements. As of late this week, both sides seemed to agree that another round of $1,200 payments should go to most Americans.
Arkansas Advocates released a statement arguing that the HEALS Act does not provide adequate support to children and families during this crisis.
CARES Act funding
The state's CARES Act Steering Committee recommended this week that Arkansas spend $100 million to expand broadband access in Arkansas, with the idea being that underserved rural areas must be prioritized during the pandemic. The committee makes recommendations on how to spend $1.25 billion that the state received in federal relief funding in the spring. The Arkansas Legislative Council, which has authority to conduct some business when the General Assembly is not in session, has final approval.
Last month, the committee recommended, and the Legislative Council eventually approved, $7 million in funding for increased outreach and contact tracing in the Marshallese and Latinx communities. Those communities have been hit hard by the pandemic, with infection and death rates disproportionately high. The funding goes to the Northwest Arkansas Council to use in collaboration with UAMS-Northwest, Community Clinic and other health care partners. The multi-lingual outreach and tracing efforts will be focused in Northwest Arkansas as well as Independence, Randolph, Sevier and Yell counties.
Administration halts new applications for DACA
Despite a recent U.S. Supreme Court ruling that required the continuation of the DACA, or Deferred Action for Childhood Arrivals, program, the Trump administration announced last week that it would stop accepting new applications. DACA protects from deportation immigrants who were brought unlawfully to the United States as children — and who meet certain other criteria and pay fees and taxes. Not only is the administration refusing to accept new applications from young people who qualify, but it has reduced the amount of time the DACA permits are in effect from two years to one year.
Arkansas United, an immigrant rights organization, described the latest move as an effort to dismantle DACA altogether. The program currently protects about 700,000 young immigrants from deportation, including about 4,500 Arkansans.
New UAMS report looks at disparities seen in cases and severity and August projections
Using Arkansas Department of Health data, a UAMS College of Public Health report, COVID-19 Forecasting, Projections, and Impact Assessments released on July 30 found:
Forecasts suggest increases in COVID-19 cases, hospitalizations, intensive care beds and deaths by August 10.
Continued disparate impact of COVID-19 on African American and Latino families.
Children may be more infectious than previously thought.
African Americans are three times more likely to be hospitalized or have an ICU admission than Whites.
Hispanics are nearly four times more likely to be hospitalized than Whites.
COVID-19 positive African Americans have nearly twice the mortality rate of Whites.
56,900 essential workers in Arkansas at risk from Medicaid cuts
Medicaid enrollees working in essential frontline industries are among those at risk if federal policymakers fail to provide needed increases in Medicaid funding or weaken protections for program enrollees, according to a new analysis from the Center on Budget and Policy Priorities. With the economic fallout from the COVID-19 pandemic creating a growing need for Medicaid health coverage and a huge drop off in state revenues, some states have cut Medicaid and other health programs. Others, including Arkansas, are likely to follow suit unless federal policymakers provide additional funds and maintain strong protections for Medicaid enrollees. Read more.
Upcoming Virtual Events
Redistricting in Arkansas
Thursday, August 13 from 6:00pm-7:00pm
Learn more and register
Immigrant Health Forum
Tuesday, August 25 from 2:30 pm-3:45 p.m.
Learn more and register
AR Kids Count Coalition, Southwest Arkansas Policy Discussion
Tuesday, September 1 from 6:00pm-7:00pm
Learn more and register
Health Care Policy Basics
Tuesday, September 8 from 6:00pm-7:00pm
Learn more and register
AR Kids Count Coalition, Delta Policy Discussion
Tuesday, September 15 from 6:00pm-7:00pm
Learn more and register
AR Kids Count Coalition, Children's Policy Summit
Tuesday, November 17 to Thursday, November 19th
Learn more and register
Resources