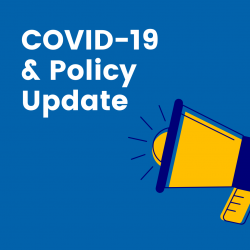 September 18, 2020
Even before the pandemic, Arkansas's uninsured rate was climbing faster than almost any other state. That and other issues are included in this latest edition of the Arkansas Advocates policy update, which will arrive in your inbox every other Friday.
Uninsured rates on the rise
The percentage of uninsured children in Arkansas shot up from 4.5 percent in 2018 to 5.9 percent in 2019, an unusually big jump and representing the fifth largest increase in the nation. In the new data released Tuesday from the Census Bureau's American Community Survey, our state children's uninsured rate is now higher than the national average, which is 5.7 percent. As our partners at the Georgetown Center for Children and Families reported Wednesday, the alarming jump in the children's uninsured rate nationally represents the largest annual increase in the number of uninsured children since the survey began asking about health insurance in 2008.
Arkansas Advocates has produced a video to encourage parents whose children may qualify for ARKids First to learn more about the program and enroll. Visit our YouTube channel to find the video in English and in Spanish, and share with your networks.
Arkansas's overall uninsured rate, including adults, went up from 8.2 percent in 2018 to 9.1 percent in 2019. That was the nation's second largest increase. This is yet another reminder that even before the pandemic, our health foundations were on shaky ground in Arkansas and nationally. See our recent Finish Line report for suggestions on policy solutions that could help turn around this trend in Arkansas and nationally. And you can read more about the newest American Community Survey poverty and income data, including more recent Census data on the effects of the pandemic, here on our website.
Gloomy outlook reported for virus spread
A new modeling report released this week by the Fay Boozman College of Public Health shows that the pandemic is predicted to reach its peak in Arkansas on or about Dec. 23 at 83,605 active infections, compared to about 5,500 now. The number of deaths at that time could be 195 per day, compared to daily deaths between 10 and 20 in recent weeks. Experts at UAMS emphasize that the prediction would only become reality if the virus continues to spread as it is today. Gov. Hutchinson said this week that the forecast is a "wake-up call" and that the state will beat those projections if Arkansans follow public health guidelines including wearing masks.
Meanwhile, all the states with the highest per-capita COVID-19 cases are in the South. Arkansas is 9th and Louisiana is 1st. The chart is here on the Arkansas Democrat-Gazette's coronavirus tracker.
Vast majority of U.S. child deaths from COVID-19 are children of color
More than three-fourths of the COVID-19 deaths among children and young adults are Black, Hispanic and American Indian. New national numbers reported by the Centers for Disease Control and Prevention show that, as of the end of July, 392,000 people younger than 21 had tested positive for the virus, and 121 of them had died. Of those, 45 percent were Hispanic, 29 percent were Black, and 4 percent were American Indian or Alaskan Native. The Arkansas Department of Health has reported no deaths among children in our state.
Among the overall population in Arkansas, COVID-19 cases and deaths have been disproportionately among people of color. The Arkansas CARES Act Steering Committee has recommended requests to spend more than $900 million of the $1.5 billion in federal aid received to assist the state in response to the COVID-19 pandemic. But a request by the Arkansas Health Equity Response Committee to improve the services to minority communities in the state was denied at both the July 15 and September 9 meetings. The request would have funded temporary lay health workers, a mobile health unit, nonprofit peer support, research and administration, marketing and promotion, masks, sanitizer, and cleaning supplies.
Congress likely to leave Washington without providing relief
You may feel déjà vu reading this, but Congress and the White House have still not come to an agreement on the next COVID-19 relief package. One key provision, the supplemental unemployment payments that provided $600/week in additional unemployment payments expired at the end of July. Democrats in the House are discussing the idea of a new stimulus package, while President Trump tweeted that Senate Republicans should consider legislation with a higher spending amount than the last bill they considered. Still, the sides remain far apart on the particulars. However, Congress has seemed to reach agreement on a continuing resolution to fund the government and prevent a shutdown later this month.
Supplemental unemployment insurance payments
At the state level, even a $300/week supplement, intended to help unemployed people through a White House executive order, would not help many families for long. The State Division of Workforce Services now claims that the enhanced unemployment benefit would only last three weeks, lower than previous estimates. Even those three weeks are not guaranteed, depending on funding availability.
Deadline to register to receive stimulus payments Oct. 15
Meanwhile, tens of thousands of Arkansans have missed out on the stimulus payments that were intended to provide economic relief in the spring. They and millions of Americans have not yet received the stimulus payment because they did not file federal taxes in 2018 or 2019 and did not automatically receive them. They must go to the IRS economic payment website and click on the "Non-Filers" button to sign-up to receive the payment. The deadline is October 15.
Help us spread the word to those who may be affected. In Arkansas,143,000 did not automatically receive the payments. The Center for Budget and Policy Priorities has created communications materials, including fliers and social media graphics you can use to raise awareness. The resources can be found at the bottom of this webpage.
Nationwide eviction moratorium
The Centers for Disease Control and Prevention has issued a national moratorium on evictions for nonpayment of rent from Sept. 4 until Dec. 31, 2020. Tenants seeking protection under this order must submit a declaration statement to their landlord about their inability to make rent payments. Eligibility guidelines and details can be found here.
Citizen initiatives all fail test to qualify for ballot
After state and federal court rulings, all the proposals that citizens initiated with petition drives have failed to make the 2020 ballot — including ones to create an independent redistricting commission and to establish ranked-choice voting in Arkansas. Even though paid canvassers who collected signatures for those proposals cleared background checks at the federal and state levels, the Arkansas Supreme Court found that petitioners did not certify that their canvassers "passed" the background checks as required by law. That's because under a law the Legislature passed in 2019, the Arkansas State Police would have to sign off on the background checks, but the State Police cannot conduct federal checks. Therefore, citizen petitions did not have enough valid signatures. This week, a federal judge ruled against a League of Women Voters' challenge — finally killing the redistricting proposal.
The background check certification is confusing at best and perhaps impossible to achieve, contributing to the failure of every citizen initiative this year. At the same time, the Legislature referred to voters a proposed constitutional amendment, Issue 3 on the ballot, that would make it even harder for citizen initiatives to qualify for the ballot.
Panel rules humanitarian protections could end for some refugees
A federal appeals court panel ruled earlier this week that humanitarian protections for some 300,000 immigrants from El Salvador, Nicaragua, Haiti, and Sudan with Temporary Protected Status (TPS), a program that allows people fleeing natural disasters, war, and other emergencies, could end. Plaintiffs in the case are planning to appeal the ruling. The President had terminated the program for the countries in 2017 and 2018, but a court had issued an injunction on enforcing the order until a lawsuit could be heard. Several people enrolled in the TPS program had filed suit on both procedural grounds and the belief that the President's decision was racially motivated.
Also this week, a whistleblower who worked at a privately-run immigration detention facility in Georgia filed a complaint that the center had mishandled COVID-19 care and prevention and had said women at the facility had received questionable hysterectomies. In response, Democratic congressional leaders called for an investigation of the accusations.
Court rejects rule to exclude undocumented immigrants in apportionment
This summer, President Trump issued a memo to the Secretary of Commerce ordering that people who are undocumented could not be counted in the Census Bureau's official count for reapportionment, the numbers used to determine how many representatives each state can send to Congress. Everyone living in the United States, regardless of citizenship status, has always been included in the count. A three-judge panel ruled against the President's order, and the Justice Department is now appealing the ruling to the Supreme Court.
Meanwhile, uncertainty still remains about how and when the 2020 Census will wind down. The count is scheduled to be complete on September 30, but proponents of extending the deadline had a win in court yesterday. With so much confusion, the best thing you can do is help spread the word to those who haven't completed the census to do so by the end of the month. They can do that at 2020census.gov or by calling 844-330-2020. Here to help you are ideas, volunteer opportunities (from the safety of your home), and resources from Arkansas Counts.
Another study confirms Medicaid work requirements a failure
A Harvard study published last week in Health Affairs magazine confirmed what we know: the work-reporting requirement in Arkansas's expanded Medicaid program, Arkansas Works, did not help put people back to work. Instead, it left poor Arkansans with medical debt and delayed care. Many didn't know about the requirement and did not report their hours even though they were working. You can read more about this failed experiment here in our 2019 brief. Meanwhile, the state and federal governments are appealing court rulings to try to reinstate the work-reporting requirements. The U.S. The Supreme Court will consider this fall whether to hear the case.
Funding for cities and counties
The CARES Act Steering Committee recommended that the state allocate $150 million to reimburse cities and counties for costs they've incurred related to COVID-19. Gov. Hutchinson suggested this week that cities and counties use some of the funding to help families who are having trouble paying rent and putting food on the table.
The connection between economic security and family health
What is the connection between health and wealth? Many low-income Arkansas families know the answer too well. Join Arkansas Advocates for Children and Families and our partner, Children's HealthWatch, for a discussion of the findings of our assessment on the impact a state Earned Income Tax Credit would have on the health of Arkansans. We will talk about how this policy would allow working families to keep more of their income and by doing so, improve the health and well-being of even the littlest members of their families. Low-income families have to make a lot of tough financial decisions. But our Health Impact Assessment found that a state EITC could make a major difference to families, with benefits ranging from more babies being born a healthier weight to better developmental trajectories for children.
Wednesday, September 30 from 2:00pm-3:00pm
Register to watch on Zoom. The event will also be streamed live on our Facebook page.
More upcoming virtual events
Northwest Arkansas Election Policy Conversation
Tuesday, October 13 from 11:00am-12:30pm
Learn more and register
AR Kids Count Coalition, Children's Policy Summit
Tuesday, November 17 to Thursday, November 19
Learn more and register
Resources