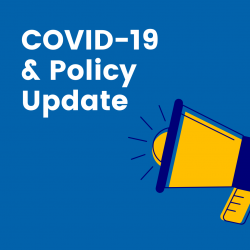 October 2, 2020
On a day when we learned the President and First Lady have tested positive for COVID-19, we wish everyone good health during this crisis. State updates and other issues are in this edition of the Arkansas Advocates policy update, which will arrive in your inbox every other Friday.
Arkansas infection rate keeps us in the 'red zone'
Arkansas's COVID-19 infections have continued the last couple of weeks at a rate equal to or higher than the state's peak of positive cases in July. State officials point out that testing has increased, and that the positivity rate went down in September. Still, the latest numbers put Arkansas solidly in the "red zone" on the White House coronavirus report card. We had 194 new cases per 100,000 people over the week previous to the report, more than twice the national average. Any state with at least 101 cases per 100,000 is in the red zone.
Also this week, the UAMS Fay Boozman College of Public Health released its latest forecast of where the virus might be headed, and it shows that the peak of active infections may be later than previously expected — February as opposed to December. The prediction for the number of active cases at that time, about 58,000 in a "moderate" scenario, is similar to the previous prediction. That's compared to about 7,000 active cases currently.
More children have COVID-19
The Centers for Disease Control and Prevention said this week that infections in children are on the rise, with school in session across the country now. Most cases are mild. Few children with COVID-19 are hospitalized (about 2 percent), but young people who are Black, Hispanic or have underlying conditions were more likely to fare worse, according to the CDC report. The American Academy of Pediatrics reported 625,000 cases in children and young people 0-19, with 109 deaths. The Arkansas Department of Health keeps a list here of cases in our state's school districts as well as colleges and universities.
An impossible standard
Last week, Pulaski County Circuit Court Judge Mary McGowan struck down a state law that played a role in removing three citizen-led initiatives from the Arkansas ballot. Judge McGowan ruled that the law, which required paid canvassers to "pass" federal background checks conducted by the State Police, was impossible to comply with. As discussed in our previous newsletter, the Arkansas State Police does not conduct federal background checks or declare that anyone "passes" a check, and the law requires that canvassers pass background tests performed by the State Police. While the ruling comes too late for the ranked-choice voting, redistricting, and eye-surgery ballot measures, it does place an injunction on the background check law for 2022 ballot measures. The Attorney General is filing an appeal of the Circuit Court ruling, which would be heard by the state Supreme Court. You can read more from the Arkansas Democrat-Gazette.
Evictions in Arkansas
Despite the federal eviction moratorium, 476 evictions were filed in Arkansas in September. That's up from 371 in August, which itself was more than the 329 filed in July. These numbers are likely to be an underestimate, due to incomplete data sources. This website helps people determine if they qualify for eviction protection and write a declaration to share with their landlord.
The 2020 Census
The 2020 Census will have very serious implications for our communities over the next decade. The census determines how much federal funding our state will receive for important programs like children's health insurance and emergency food assistance. It will help determine how our voting districts are drawn and how many representatives we send to Congress. But drama over the census deadline continues, adding confusion to this critical count. With federal court rulings and lawsuits pending, the "target" deadline to complete has been in flux. Just in the last few days, the deadline moved from September 30 to October 5, and now, advocates and many members of Congress are asking that it continue until October 31, which had been the plan a few months ago. You can read more here.
The bottom line is: there is still time to fill out the census, and to encourage your friends and family to do so. Self response is the most accurate way to ensure we have a complete count. All households can continue to respond to the census here, at least for a few more days.
At the U.S. Capitol: Funding, Supreme Court, and COVID-19
As debate over the Supreme Court nomination process takes center stage, President Trump signed a stop-gap funding bill that will keep the federal government open through December 3. The Trump Administration and House leadership have resumed talks over a COVID-19 relief package. The House of Representatives passed a new COVID-19 relief package that would come with a cost of $2.2 trillion, putting the price tag between its original HEROES Act and the recent Senate bill. The bill includes fiscal relief to state and local governments, a 15 percent increase to the maximum SNAP food assistance benefits, rental assistance, and an extension to the enhanced unemployment benefits that expired in July.
Back to the Supreme Court nomination fight: Some health care advocates are concerned how President Trump's nominee, Judge Amy Coney Barrett, could rule in a case challenging the constitutionality of the Affordable Care Act (ACA), also known as Obamacare. On November 10, the court will hear a lawsuit to overturn the ACA, which was filed by a group of state attorneys general, including Arkansas Attorney General Leslie Rutledge. The Center for Budget and Policy Priorities wrote this blog about what is at stake in the ruling. Twelve million people are at risk of losing their health care coverage, including hundreds of thousands in Arkansas.
Crisis Counseling Services
The Promoting Positive Emotions program from the Arkansas Department of Human Services, is a Crisis Counseling Program that partners with local behavioral health programs to provide free education, outreach, crisis counseling and referrals to individuals and families impacted by the current pandemic. You can call (833) 993-2382 to find crisis counseling services near you. You can learn more about the program here.
Get ready to vote
Monday is the last day to register to vote in time to participate in the Nov. 3 election. You can find out how to register here, and if you're already registered, you can check the status of your existing voter registration here.
If you're voting with an absentee ballot, you may have already received it in the mail. Here's a video from the Pulaski County Clerk to help make sure you follow all the rules and return your ballot correctly. Depending on where you live, you may need to place multiple stamps on your return envelope (three in Pulaski County!). Also depending on where you live, you may be able to drop off your absentee ballot in person at your county courthouse.
The Arkansas League of Women Voters sued last week to ensure that voters are notified and given a chance to remedy the situation if election officials reject their absentee ballots. The federal lawsuit seeks to have election officials begin verifying those ballots well before the election, so voters have a chance to fix discrepancies in signatures, for example.
Learn about the 2020 ballot issues
Not sure about the ballot issues this election? The Public Policy Center at the University of Arkansas System Division of Agriculture's Cooperative Extension Service has issued its 2020 Ballot Issues Voter Guide, which comes out every two years and offers an unbiased look at the questions and how they would change the Arkansas Constitution.
Arkansas Advocates for Children and Families is part of a new committee, Protect AR Rights, opposing Issue 3.
Reminder: Deadline to register to receive stimulus payments Oct. 15
Tens of thousands of Arkansans have missed out on the stimulus payments that were intended to provide economic relief in the spring. They and millions of Americans have not yet received the stimulus payment because they did not file federal taxes in 2018 or 2019 and did not automatically receive them. They must go to the IRS economic payment website and click on the "Non-Filers" button to sign-up to receive the payment. The deadline is October 15.
Help us spread the word to those who may be affected. In Arkansas,143,000 did not automatically receive the payments. The Center for Budget and Policy Priorities has created communications materials, including fliers and social media graphics you can use to raise awareness. The resources can be found at the bottom of this webpage.
Local podcast gets more national attention
An already nationally acclaimed Arkansas-based podcast received another accolade this week. The Blackbelt Voices podcast was named one of the 15 Best Educational Podcasts by The Oprah Magazine. The magazine says "The Black, southern experience is explored in rich detail on this podcast hosted by writer Adena J. White, consulting strategist Kara Wilkins, and journalist Katrina Dupins. Episodes delve into topics like the cultural significance of hairstyles, the relationship between the national census and Black communities, and political organizing across the southern U.S."
Happy news and happy chips
A Fort Smith nonprofit and community leader, Charlotte Tidwell, who founded Antioch Youth and Family, is now featured on Lays Lightly Salted Potato Chips as part of the company's Operation Smile. Tidwell and Antioch help provide meals to over 20,000 families a month. You can see Tidwell's Smile Story here (her box is on the far right, third from the top).
Northwest Arkansas election policy conversation
Live in Northwest Arkansas? Join the Arkansas Kids Count Coalition for a virtual policy discussion with your peers on issues impacting children in your community as we near the election. Share your insight with and hear from fellow advocates. Then learn about ways that you can make sure issues kids are facing are part of policy conversations during the election season. The event is open to the public.
Tuesday, October 13 from 11:00am-12:30pm
Register
African Americans and COVID-19
From the beginning of the pandemic, African Americans have had COVID-19 hospitalizations and deaths at higher rates than their share of the population. Join us as we discuss how the pandemic has impacted the African American community here in Arkansas, the systemic inequities in health care and health care coverage that have led to the racial disparities we are seeing in COVID-19 cases and outcomes, and what can be done to improve health outcomes for African American Arkansans.
Tuesday, October 13 from 5:00pm-6:30pm
Register to watch on Zoom. The event will also be streamed live on our Facebook page.
More upcoming virtual events
2020 Friends of Children Annual Luncheon
Tuesday, October 20 at 11:00am
Learn more and register 
AR Kids Count Coalition, Children's Policy Summit
Tuesday, November 17 to Thursday, November 19
Learn more and register
Resources