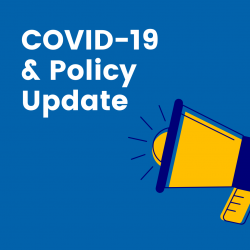 November 13, 2020
A week after the election, we're still analyzing how the results might affect public policy in Arkansas. We'll talk about this and more in a series of meetings next week that are part of our Children's Policy Summit.
Meanwhile, here is our latest policy update, which arrives in your email inbox every other Friday.
Election results point to policy changes
President-elect Joe Biden's victory will change federal policy in ways that will have enormous impact in Arkansas. For example, his administration would be unlikely to approve work-reporting requirements for those who have insurance through our state's Medicaid expansion. Federal courts already struck down those requirements, but the state has been trying to reinstate them. In addition, changes to the "public charge" rule, which made it harder for low-income immigrants to become American citizens, probably won't be permanent now. Attempts to remove immigrants with Deferred Action for Childhood Arrivals status would also be unlikely in the new administration. A federal plan to make it harder to obtain SNAP benefits, or food stamps, probably won't be pursued further.
Those are just a few examples of some of the changes we anticipate.
At the state level, administrative and legislative power will remain mostly the same. Republicans increased their numbers in the state Senate to secure a supermajority, which gives their members more procedural power. In a couple of very close House races in Pulaski County, election officials are still counting provisional ballots that could sway the outcome, but not control of the chamber. Executive positions of our constitutional officers (Governor and Attorney General, for example) weren't on the ballot. Their four-year terms are up in 2022.
Voters rejected Issue 3, which would have made it harder for citizens to propose their own changes to state law through the initiative process. They voted in favor of Issues 1 and 2 on the ballot, creating a permanent half-cent sales tax to fund road infrastructure and to end lifetime limits on the number of years legislators can serve in the General Assembly.
Pandemic surge indicates difficult winter is coming
Arkansas, like much of the nation, continues to set records in new COVID-19 cases and virus-related hospitalizations. Today, the state reported its highest-ever confirmed and probable case count: 2,312 new cases in 24 hours. Virus-related hospitalizations reached a new high of 826. Governor Hutchinson announced plans to convene a "COVID-19 winter task force" to help ensure that the state has adequate hospital space and ventilators, not just for virus cases but Arkansans' other health needs.
Gov. Hutchinson will chair the task force with Surgeon General Greg Bledsoe as vice-chairman. Starting Monday, the governor said he will ask the task force to help:
Coordinate hospital caseload statewide, not just by region.
Increase staff resources to ease the burden on health care workers.
Identify steps needed to increase compliance with the statewide mask mandate.
Reduce the state's number of COVID-19 cases.
Recommendations to reduce the caseload
We have not implemented Arkansas-specific recommendations from the White House. Those include limiting restaurants to 50 percent capacity (they're at 66 percent now), limiting restaurant hours, and wider use of rapid antigen tests. The White House report shows that Arkansas's latest weekly rate of infections is 33 percent higher than the national weekly rate.
Other recommendations from the White House report that we can all follow: no gathering without a mask with individuals living outside your household; always wear a mask in public places; stop gatherings beyond your immediate household until cases and test positivity rates are lower; get your flu shot.
Concerns about vaccine acceptance in Arkansas
With promising news about what could become an effective vaccine for the coronavirus, Arkansans "appear to be tepid toward accepting" a vaccine, according to the latest report from UAMS and the Fay W. Boozman College of Public of Health. A poll indicated strong differences by race and ethnicity, with Black Arkansans having lower acceptance than Hispanic and non-Hispanic White Arkansans.
The big difference was in perceived vaccine safety. "This finding suggests the state should make special efforts to understand how Blacks perceive the acceptability of vaccines differently than Whites and Hispanics, and develop communication and distribution programs accordingly," the report states. The results also show that the state needs to move the whole Arkansas population toward higher acceptance.
Governor's budget outlined
Governor Hutchinson proposed more tax cuts in the budget he presented to the Legislature this week. The $5.84 billion general revenue budget would cover the fiscal year that begins in July. As reported in the Arkansas Democrat-Gazette, the estimated revenue amount reflects a proposed cut in the state's income tax for new higher-income Arkansas residents. In fiscal 2021, new residents' high-end state income tax rate would be 4.9 percent for the first five years, compared to 5.9 percent for Arkansans who already live here.
The governor's budget assumes that the state will continue the Medicaid expansion that provides health insurance to 290,000 low-income Arkansans. The program is up for renewal at the federal level in 2021.
It's open enrollment time for health insurance
You have until December 15 to apply for a health insurance plan through the federal marketplace, if you need one. Georgetown University's Center on Health Insurance Reforms outlined several changes to marketplace plans this year. If you want to share information about enrolling in a plan, Community Catalyst created this social media toolkit.
Children who qualify for ARKids First health insurance can be enrolled year-round. We have created a Public Service Announcement to explain the basics of enrollment in ARKids. Visit our YouTube channel to find the video in English and in Spanish, and share with your networks.
Affordable Care Act at the Supreme Court
On Tuesday, the U.S. Supreme Court heard oral arguments in the case that seeks to strike down the Affordable Care Act. (Arkansas is one of the states seeking to repeal the law.) Though you can't make predictions based on the questions asked during the proceedings, they did give hope to Affordable Care Act supporters, like those of us at Arkansas Advocates for Children and Families.
During the proceeding, Chief Justice John Roberts and Justice Brett Kavanaugh raised questions about why the entire law should be struck down if just one part of it is invalidated. The line of questioning seemed to indicate that a majority of the Court might favor severing from the entire law the "individual mandate" that everyone has to have health insurance. If that happens, the Court would determine separately if the mandate is unconstitutional. That could mean the ACA would be preserved and millions of Americans who obtained health insurance for the first time as a result of the law would be able to keep their health coverage. The Court's decision is expected sometime next summer.
The state of eviction 
Arkansas's criminal eviction law made national news, owing to the fact that we are the only state in the country that makes it a criminal offense to be late on or not pay rent. In an exposé by Arkansas News Network in partnership with ProPublica, reporters looked at the harmful impact the law has had on the lives of Arkansans, particularly Black women, the law's long and complicated history, and how current state legislators view the criminal eviction statute. ProPublica also wrote this guide for what Arkansas renters can do if their landlord is trying to evict them.
Because of the pandemic and economic hardship families are facing, the Centers for Disease Control and Prevention issued a national moratorium on evictions for nonpayment of rent from Sept. 4 until Dec. 31, 2020. Tenants seeking protection under this order must submit a declaration statement to their landlord about their inability to make rent payments. Eligibility guidelines and details can be found here. If you need legal assistance you can contact either Center for Arkansas Legal Services or Legal Aid of Arkansas, depending on the county where you live. See the map.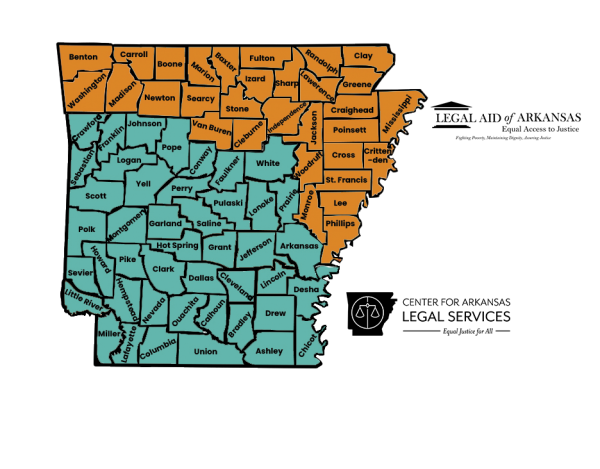 Community action agencies throughout Arkansas also received grants from the state government to provide rent assistance; you can learn more here.
Lawsuit filed on assistance for voters
A local immigrant rights group, Arkansas United, filed a lawsuit over restrictions in the state's voter assistance law. The law restricts any person from assisting more than six voters at the polls. Arkansas United wanted to assist more voters whose primary language was not English. The lawsuit was filed the day before Election Day. On Election Day, a federal judge said the state law probably is in fact in violation of the Voting Rights Act, but because of the timing of the lawsuit, he denied a request for a temporary restraining order and allowed the state's restriction to continue through Election Day.
Health care worker shortage in Arkansas
As COVID-19 infection rates continue to climb, the Arkansas Hospital Association raised the alarm that hospitals are facing a shortage of health care workers during this critical time. "What we are seeing is a shortage of healthcare workers. That is caused by fatigue, competition from other states, increasing costs and community exposure. Reports from every region of the state indicate fatigue from healthcare workers in treating COVID patients. As we begin to think about our own fatigue, let's consider the effort going on by health care workers across our state and their fatigue." Read more from Talk Business.
Family separation numbers grow
As of November 9, lawyers have identified a total of 666 children who have yet to be reunited with their families after they were separated by the federal government at the U.S. border with Mexico. Many of the parents have been deported, making it difficult for lawyers and advocacy groups to contact them. President-elect Biden has pledged to create a task force to reunite separated families.
Brain Science Speakers Bureau
To call attention to the importance of positive relationships and quality engagements in children's brain development, ReadyNation is offering expert, credentialed scientists as speakers for events and providing materials for public use. Learn how healthy early brain development positively impacts later life outcomes; For any-sized event or audience (e.g. business, education, government, community); NO speaking fees; Event organizer only pays for travel expenses, if any. Learn more.
Policy Summit next week
To get ready to advocate for children and families during the 2021 Arkansas General Assembly's regular session, we hope you'll join us next week for the Arkansas Kids Count Coalition's Children Policy Summit. With multiple events throughout the week you can hear from legislators, statewide advocates, and peers in your region about what to expect at the legislature next year, what they will be lobbying for, and tips on advocating. We will also host a training on how to create an advocacy plan that works best for you or your organization. You can pick and choose which sessions to attend. Learn more and register here.
Resources