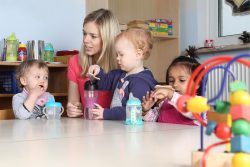 When do children begin to learn? Believe it or not, school readiness begins in the womb. Research shows the first few years of life, including the prenatal months, are the most important for healthy brain development. Unfortunately, too many kids aren't getting the boost they need in the infant and toddler years. Arkansas Advocates for Children and Families and the Arkansas Campaign for Grade-Level Reading have released a new report, "What Do Our Littlest Learners Need to Be School-Ready?" This report focuses on a few factors that have the greatest impact on school readiness: good health, positive early learning experiences, and strong families with economic stability. This blog post is the first in a series highlighting key findings from that report.
Developmental screenings and treatment are vital for the health of infants and toddlers.
Developmental screenings and treatments are critical for ensuring children are healthy and successful in school, especially children from lower-income families. An Early and Periodic Screening, Diagnostic, and Treatment (EPSDT) is a simple, cost-effective way to ensure children are hitting milestones in their growth and development. Usually conducted during well-child visits, EPSDTs allow pediatricians to address vision, hearing, fine motor skills, or other issues early. State EPSDT programs report whether children enrolled in Medicaid receive screenings or referrals. Federal and state law do not prescribe specific screenings or treatments. It is up to the treating physician to decide what the child needs.
In Arkansas, the percentage of children receiving recommended screens decreases with age. In 2016, most children enrolled in Medicaid under age 1 had screens (92 percent), but only 67 percent of children ages 1 to 2 years old had screens. The percentage dropped to 58 percent by ages 3 to 5. Many of these children who need early intervention are not identified until they start pre-K or kindergarten.
Many child care centers, Head Start, home visiting, and pre-K programs also provide screenings. However, there is usually no system for sharing screening results to a child's primary care physician to determine if he or she received appropriate referrals and services.
Good mental health and social-emotional skills make early learning possible.
Adverse childhood experiences affect the ability to learn language and early literacy skills. But many infants and toddlers have not had access to mental health treatment, because Arkansas Medicaid usually did not reimburse providers. Fortunately, Arkansas's Medicaid program recently added behavioral health services for children ages 0 to 4.
Although social-emotional screenings are not required as part of EPSDT, the need is great. In a 2012 study of children enrolled in Arkansas Head Start and Arkansas Better Chance (ABC) pre-K programs, 16 percent had significant behavioral problems. Improving access to screenings and treatment is an important step toward ensuring all children are healthy and successful in school.
Arkansas can help ensure good health for infants and toddlers through sound policies and early investment.
In 2016, stakeholders began discussing ways to improve screening, referral, and services. AACF's 2017 report included the following recommendations:
The state is working to improve services to young children and allow Medicaid to cover behavioral health services in early childhood. The state's Medicaid and early childhood departments should continue to increase accountability and create incentives for providers to support early intervention and prevention.
Implementing a standardized screening tool would help identify at-risk children early. The Ages and Stages Questionnaires are currently used in home visiting programs, many early childhood education programs, and some pediatric clinics.
Assessment findings should be shared rapidly, and families must be linked to services after receiving a screening. If a need is identified during a primary care visit or in an early childhood program, the family should be referred and connected to services. This also requires an improved data system to track early identification and interventions.
The state should improve family support by providing incentives to programs that offer ongoing education and engagement with parents.
Children with the greatest needs should receive intensive early intervention in the least restrictive setting.
Screening children early and improving prevention and early intervention will require the collaboration across the health and education systems. These investments are vital to ensuring every child in Arkansas has the resources they need to be school-ready and become healthy, productive adults.
Follow the link to read AACF's full report: "What Do Our Littlest Learners Need to Be School-Ready?"
Read part II in this blog series here.