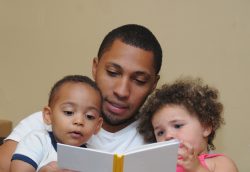 Before age 3, 85 percent of a child's core brain structure is formed. This "wiring" shapes infants and toddlers' ability to learn to read and think critically. Early learning experiences also influence health, social, and economic outcomes.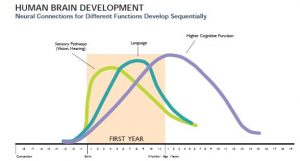 The Arkansas Campaign for Grade-Level Reading and Arkansas Advocates for Children and Families recently released a report, "What Do Our Littlest Learners Need to Be School-Ready?" This blog post is the second in a series highlighting its key findings.
What are positive early learning experiences?
Positive early learning experiences help children succeed throughout K-12. As early as age 3, a child's vocabulary can predict third-grade reading achievement. Even 15 minutes a day of reading can expose students to more than a million words of text in a year.
But poverty diminishes brain growth in these earliest years — and half of all babies in the U.S. live at or near the poverty line. Many low-income infants and toddlers have limited exposure to early literacy and social-emotional skills. By age 2, lower-income children are already behind their peers in listening, counting, and other skills essential to literacy. And by age 5, a typical lower-class child recognizes nine letters of the alphabet, compared to 22 for a child from a middle-class family.
Talking, reading, and singing primes the brain for strong language skills.
Young children whose parents read to them, tell stories, and sing songs become better readers and perform better in school. But more than half of Arkansas children start Kindergarten unprepared, lagging their peers in critical language, math, and social-emotional skills. In Arkansas, just 47 percent of parents or family members read to their child each day, and 58 percent tell stories and sing to their children ages birth to 5. Children from lower-income homes hear as many as 30 million fewer words than their more affluent peers.
Having books in the home prepares infants and toddlers to become lifelong readers.
Exposure to books at an early age leads to improved literacy throughout life. In fact, research indicates that having books in the home is twice as important as the father's education level for developing reading skills. However, 61 percent of children from lower-income families have no children's books in their homes. In lower-income neighborhoods, the ratio of books to children is one book for every 300 children, far below the ratio of 13 books per child in other neighborhoods.
Many effective, inexpensive policies and programs can help improve school readiness and outcomes. The Arkansas Campaign for Grade-Level Reading's "Talking is Teaching: Talk, Read, Sing" campaign encourages parents to read, talk, and sing with their young children and to give them the tools to do so, such as Ready Rosie. For more information, see AACF's and the Arkansas Campaign for Grade-Level Reading's 2017 report, "Talk, Read, Sing."
Several nonprofit organizations are also helping fill in the literacy gap for lower-income infants and toddlers. For example, Dolly Parton's Imagination Library provides books to young children every month, and Reach Out and Read Arkansas gives children books when they visit their pediatrician. Legislation was introduced during Arkansas's 2017 legislative session to provide state funding for it, but the bill did not come up for a vote. It is worth revisiting this cost-effective solution in the next legislative session in 2019.
Read Part I of this blog series here.