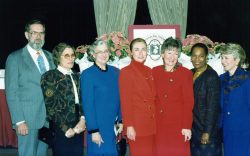 Today, Arkansas Advocates for Children and Families celebrates 40 years of working to improve the lives of Arkansas children and families. We were founded in 1977 by a group of prominent Arkansans who believed that children needed an "independent force to provide information and education to parents and citizens about our state's policies toward children and families." Our original founders included Betty Bumpers, the late Dr. Bettye Caldwell, The Honorable Hillary Clinton, Mary Sue Jacobs, Pat Lile, the late Dr. Betty Lowe, Jim Miles, the late Sharon Pallone, Dorothy Nayles, and Judge Olly Neal. Our mission statement hasn't changed much in four decades. Today, it is to "ensure that all children and families have the resources and opportunities to lead healthy and productive lives and realize their full potential."
Since its inception, AACF has provided the leadership, research, and advocacy to promote systemic reforms that have improved the lives of Arkansas children, and we have never been afraid to lead the way when the need arose. Over the years, we have worked with our many partners and policymakers to secure major policy changes for children and families, including the creation of the ARKids First program; the expansion of quality pre-K for at risk 3- and 4-year olds; overhauls of the child welfare and juvenile justice systems; requiring schools to participate in the school breakfast program for low-income children; providing health care for Marshallese and immigrant children; reforming school discipline practices; raising of the minimum wage for low-income workers; and more fair tax policies for low-income families.
I am honored and humbled to continue serving as the agency's fourth executive director. Our success over the years would not have been possible without the strong leadership provided by the agency's three prior executive directors: Jo Luck, Don Crary, and Amy Rossi. They, along with committed staff, board members, and partners, have helped make AACF the organization it is today.
As we kick off our 40th year, I believe AACF is well suited to continue its effective advocacy work for Arkansas's most vulnerable children. We have a great staff (including a satellite office in Northwest Arkansas), a dedicated board, and strong partners. But we need you, too. In an increasingly tough political and economic environment, we need more advocates for children who will reach out to policymakers and encourage them to do what is right, including making investments in our children's future that will help give them the opportunities to succeed.

Rich Huddleston, AACF Executive Director
Plus, see a list of some of our greatest accomplishments over the past four decades here!