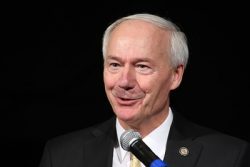 Enacting hate-crimes legislation would be a huge step in making Arkansas a safer and more inclusive place for children to grow up – and for all of us to live and prosper. We applaud Gov. Hutchinson for strongly urging our state Legislature to pass proposed legislation that would do just that.
Currently, Arkansas is only one of three states without some form of a hate crimes law. In his State of the State speech today, the governor implored lawmakers to ensure that we're not the last.
The current legislative proposals are Senate Bill 3 by Sen. Jim Hendren and House Bill 1020 by Rep. Fredrick Love. They would increase penalties by no more than 20 percent for crimes in which an offender targets a victim because of their race, ethnicity, national origin, gender identity, sexual orientation, disability, religion, homelessness or military service.
The legislation is one of the top priorities this session for Arkansas Advocates for Children and Families. AACF's executive director, Rich Huddleston, joined Hutchinson in calling on lawmakers to pass the legislation.
"Arkansas should be a place where each person feels included and safe living their lives to the fullest," said Rich Huddleston, the AACF executive director. "We are so thankful that the Governor urged lawmakers to pass this legislation, which would move us closer to that ideal."
In his speech, Hutchinson said he's heard would-be opponents saying they don't want the legislation to pass because it creates special protections. It does not, he said.
"This legislation applies equally," Hutchinson said. "If you are Hispanic and you are targeted, it applies. If you are Jewish, it applies. If you're Caucasian, it applies. Or African American or any other race, it applies equally. It enhances the penalty for targeting regardless of the race that is targeted."
Hutchinson read a letter from Scott Copas of Little Rock's Fifty for the Future economic development group, in which Copas said failure to pass the legislation would make business recruitment much more difficult. He said it would result in a "black eye for Arkansas on a national scale that will cripple our economic development efforts for years to come."
Hutchinson also outlined a number of initiatives that are legislative priorities for Arkansas Advocates this session, including:
Support for the health care community and to fight the coronavirus.
Extending and affirming the public health emergency past February.
Laws to ensure police officers have to meet the highest standards and are accountable.
Raising average teacher salaries by $2,000.
Expanding high-speed internet access into more rural areas
More information on many of AACF's legislative priorities is here.