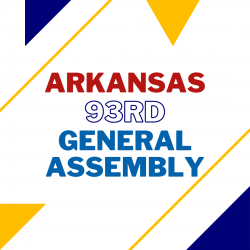 Last year was a difficult one for Arkansas's children and families. But thanks to the advocacy of people like you, several major pieces of legislation passed to help keep families in their homes; ensure that, even with schools closed, children received meals; and the many gig workers across the country could receive relief. However, there is still work to be done.
The economic fallout from the pandemic left many families struggling to meet basic needs. And disparities seen in everything from policing to COVID-19 infections have laid bare the painful impacts of systemic racism on people of color and our country.
With your continued advocacy, the Arkansas Legislature can pass laws that will ensure our state's children and families can not only be resilient, but thrive.
Arkansas's 93rd General Assembly convened today under most unusual circumstances. Arkansas Advocates has set a series of legislative goals we believe will provide children and families with the services and support they deserve. With your help, through creative and nimble advocacy, we can achieve these goals.
How you can help
What's at stake
We have identified a series of policies, outlined below, that research has proven will improve the well-being of Arkansans, and we hope you will consider adopting some or all of these as your own priorities and help us advocate for these solutions. Equity drives our legislative agenda. If Arkansas is truly committed to helping all children thrive and succeed, it must be more intentional in tearing down the obstacles that prevent all groups of children and families from succeeding.
Arkansas's Pandemic Response
In many ways, the COVID-19 pandemic and resulting economic crisis have highlighted the importance of our work on behalf of kids and low-income families. Having access to health insurance, paid sick leave and economic security is something most of us take for granted; and even in times like these, we know how to navigate the system. But that's not true for many Arkansans, and we have to put better policies in place to help them. We are tracking state and federal policy responses to the virus. We are continuing our diligent efforts to provide research-based policy analysis and recommendations for Arkansas's lawmakers and fellow advocates on a range of topics, as always. Our focus is on both short-term and long-term policies, as we work to better position Arkansas families for success now and once the current crisis is over. During this legislative session, we hope our lawmakers:
Protect access to critical safety net programs
Assure families can meet their basic needs
Tax and Budget
We need tax revenue to make the public investments necessary to support children reaching their full potential. A good tax plan is balanced and doesn't rely too much on any one type of tax. A good tax system is also transparent. It should also be adequate, meaning that we have enough to fund the public investments that we all care about. And finally, it should be based on a family's ability to pay. During this legislative session, we hope our lawmakers will protect the state budget by defending against upper-income personal and corporate income tax cuts and preventing general revenue transfers from child/family programs to highways and roads.
Family Economic Well-Being
Arkansas should be a place where each person and family can thrive. Because many Arkansas jobs pay wages that are too low to meet the needs of families, many full-time working families in the state live in poverty. And Arkansas has an upside-down tax system in which the bottom 40 percent of taxpayers pay 12 cents on every dollar they earn in state and local taxes, compared to less than 6 cents on every dollar for the top 1 percent of taxpayers. Recent legislation has exacerbated this problem. Arkansas has a high child poverty rate of nearly 1 in 4 children. During this legislative session, we hope our lawmakers:
Enact a working taxpayer relief act
Legislate safe and affordable housing
Food Security
Everyone should have access to nutritious food. In Arkansas, 518,960 people are struggling with hunger; 167,440 are children, meaning one in four, or 23.6 percent of Arkansas's children are at risk. In fact, Arkansas ranks second in childhood food insecurity nationwide, only behind New Mexico. Arkansas has one of the nation's highest food insecurity rates, and it's grown much worse during the pandemic. During this legislative session, we hope our lawmakers eliminate or increase the state SNAP asset limit.
Health Care
Affordable medical care is an important part of overall health, and every Arkansan should have access to health care. Even before the pandemic, the decline in children's Medicaid was of grave concern. And already existing coverage disparities are exacerbating the crisis of the pandemic in communities of color. During this legislative session, we hope our lawmakers:
Reauthorize the state's Medicaid expansion waiver
Protect funding for Medicaid
Provide one-year postpartum Medicaid coverage for mother and baby
Allow year-round coverage for the lowest-income children in ARKids First A (children enrolled in the ARKids B program already have this protection)
Adopt presumptive eligibility for Medicaid
Education
The future of Arkansas's well-being depends upon the education of our state's children. We need every child in Arkansas to have access to a free, world-class education. While Arkansas has made progress to improve its education since the Supreme Court's 2002 Lake View Decision, major gaps remain and have worsened during the pandemic, among racial and socioeconomic groups, students with special education needs, and English language learners. If equity gaps are not addressed immediately and over the long-term, current and future generations of Arkansas students will face major competitive disadvantages in their efforts to succeed in school and in life. During this legislative session, we hope our lawmakers:
Protect funding for public schools
Ensure all children have access to high quality early childhood education
Stop the school to prison pipeline by adopting school disciplinary practices that ban/limit expulsions and out-of-school suspensions and use more restorative justice techniques.
Provide funding for out-of-school programs to ensure quality learning opportunities after school and during the summertime
Expand the community-schools model that provides the wrap-around services needed for children to succeed
Juvenile Justice
In 2019, after years of persistent advocacy, the legislature passed a major juvenile justice reform bill, with the aim of ensuring that fewer young people will be detained in juvenile lockups and that their lengths of stay will be shorter. But the juvenile justice system in Arkansas is in continued need of reform. During this legislative session, we hope our lawmakers eliminate ongoing expenses related to incarceration and help kids avoid pitfalls that could keep them from achieving their potential.
Civil Rights
Arkansas should be a place where each person feels included and safe living their lives to the fullest. Too often, people who are members of groups that have been marginalized, like racial and ethnic minorities, the LGBTQ+ community, and certain religious groups are specifically targeted by criminals. On November 11, 2020, Sen. Jim Hendren and a group of bipartisan state legislators pre-filed SB 3. The proposal would increase penalties by no more than 20% for crimes where an offender targets a victim because of their race, ethnicity, national origin, gender identity, sexual orientation, disability, religion, homelessness or military service. The bill has the support of Gov. Asa Hutchinson and several companies, including Walmart and Tyson Foods, and the Arkansas State Chamber of Commerce. Enacting this legislation would be a huge step in making Arkansas a safe and inclusive space for all individuals. Currently, Arkansas is only one of three states without some form of a hate crimes bill.
Federal Advocacy
In addition to helping push for legislation in Arkansas, we will look for opportunities to advance our priorities at the federal level, from protecting safety net programs to family-supporting pandemic response bills.
There are many ways to be involved in democracy, and we hope we can help support your efforts to participate this year.