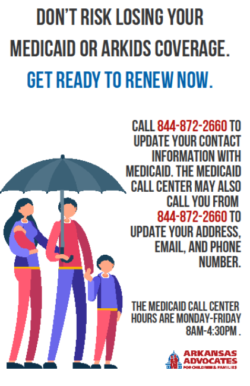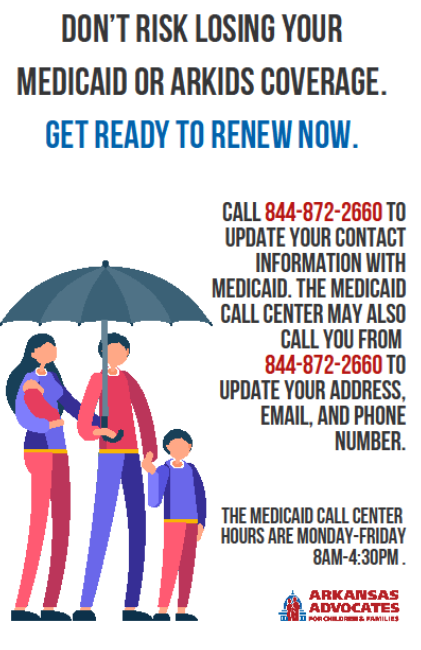 The pandemic and the economic downturn that followed negatively affected the finances of many Arkansas workers and families. Many lost their jobs, their paychecks and, in many cases, their health care coverage. As a result, many became eligible for Medicaid coverage. The number of people in Arkansas receiving Medicaid coverage increased from around 900,000 before the pandemic, to currently more than one million people. 
Because of the public health emergency (PHE), the federal government put Medicaid rule changes in place in March 2020 to protect health care coverage for struggling families. The rule changes, which are expected to end sometime in late 2022, kept Medicaid coverage in place throughout the pandemic for those already approved, as well as for those who have gotten coverage during the pandemic. Medicaid coverage has been maintained for all cases except for deaths, requests for Medicaid coverage to end, incarceration, and moving out of state. For all others, even if they have been determined to be no longer eligible, Medicaid coverage will not end until the end of the PHE.
When the federal government ends the PHE, the Arkansas Department of Human Services (DHS) will be required to reevaluate all cases for renewal — for more than one million people in Arkansas. Families receiving Medicaid coverage will be immediately affected. Arkansas DHS has already identified as many as 300,000 Arkansans who will lose their Medicaid coverage at that time.
COVID added stresses and changes in all families' lives. Many families moved or have changed their place of residence several times over the last two years. Notifying one million people will be difficult. Arkansas DHS will need to use a variety of communication methods to find people enrolled in Medicaid.
What's more, families applying for Medicaid for the first time will likely face extended delays in their approvals after the PHE ends. Delayed approvals raise concerns for new applicants needing urgent services, such as prenatal care and nursing home admissions. Children and youth needing urgent mental health services will be subject to delays in Medicaid approvals, or loss of Medicaid. Delayed approvals could also lead to more providers being wary of accepting patients with pending Medicaid applications.
Since 2020, the Center for Medicare and Medicaid (CMS) has been advising states to plan for returning to normal operations. The process of redetermining Medicaid eligibility will affect the people receiving Medicaid coverage of all ages and conditions, from infancy to the elderly. Hospitals, medical clinics, pharmacies, home health services, school-based Medicaid services, community organizations, and many others will be impacted by the giant task of processing the reevaluations.
Families may end up uninsured for these reasons:
Language barriers
Slight income increases
Inability to receive notifications from DHS
Changed cell phone numbers
Changes in mailing address
Changes in physical address
Lack of broadband or internet access
Delayed approvals for new applicants
Arkansas Act 780, passed in 2021, requires DHS to complete reevaluations of all Medicaid cases in six months after the end of the PHE. Pushing DHS staff to process over one million renewals in six months is totally unreasonable. 
The burden will fall on County Office Operations staff to process cases, determine renewals and identify those not eligible, all while continuously receiving new applications for persons seeking coverage.
CMS has worked with state Medicaid programs, national policy experts and advocacy groups to arrive at the decision to allow states 12 months to process the renewals. The Arkansas Legislature needs to take into consideration the full impact of pushing DHS to process over one million renewals in six months. Amending Act 780 to 12 months will give County Office workers more time to process applications, reducing the pressure on an already overworked DHS staff. Adhering to this unreasonable timeframe will likely result in wrongful terminations and delayed approvals.
We are extremely concerned these DHS challenges experienced in 2021 and 2022 will continue after the PHE is ended if not given sufficient time to complete such an enormous task:
A history of backlogged cases dating back to 2021
Extremely high caseloads for eligibility workers
Difficulty finding people who receive Medicaid
Staffing shortages
Limited time to train new DHS or contractor staff
Wrongful terminations
Delays in approvals for new applicants 
Arkansas DHS has taken some crucial steps to plan for the upcoming end of the PHE:
Established a new webpage called Update Arkansas on DHS website
Created a call center to notify families   
Developed toolkits for partners, clients, and providers
Notified providers of clients identified to lose coverage
Hired contractors to assist County office staff
Next Steps and Recommendations
What families can do:
Be on the alert for calls, texts, or emails from DHS
Check with your doctor's office or clinic to ensure your Medicaid coverage has not changed
 Call or go online to update contact information with DHS
Respond immediately to all communication from DHS
All DHS outreach communication should be made available in multiple languages and formats. All state agencies should work together to provide information to families.
Sites for distribution of outreach information:
Schools: nurses, school health clinics, counselors, PTA groups
Providers: private and public medical, dental, disability, pharmacy, long term care, and behavioral health providers
Community agencies and organizations: Community Action Agencies, children/youth organizations – athletics, dance, arts
Preschools
Job placement agencies
Veterans Service Organizations
Religious organizations
Social media
Foodbanks
Homeless shelters
Local businesses – grocery stores, laundromats, dry cleaners, barber and beauty shops
Greek organizations
Colleges and Universities
We commend DHS for the planning and steps taken to begin the PHE winddown. Although DHS has made a good start notifying Medicaid enrollees, and providers, AACF will continue to closely monitor federal guidance and DHS activity and make our partners and Medicaid stakeholders aware of changes.
Outreach Resources
If you work with Arkansans on Medicaid, please share these fliers in English, Spanish, and Marshallese.