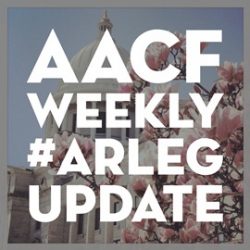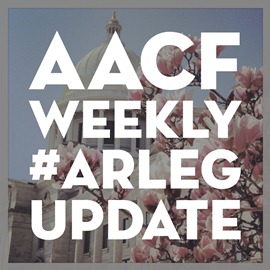 In case you missed it, here's a recap of some of the big things that happened at the Arkansas State Capitol this week:
TAX & BUDGET: What's going on with all of those online sales tax bills? A bill requiring online retailers like Amazon to collect sales taxes from Arkansas consumers (SB140) has stalled in committee this week. A similar bill that requires online retailers to notify consumers that they owe sales taxes (HB1388) did proceed out of senate committee this week. The future of these bills is still uncertain, although Amazon did recently state their intention to begin voluntarily collecting sales taxes in Arkansas. Read up on the various online tax bills here.
A pilot program that screens welfare recipients for drug use took a step closer to becoming law this week. The bill (SB123) was sent to Governor Hutchinson on Thursday after passing the Senate floor. The bill is based on legislation passed in 2015, which failed to produce effective results.
ECONOMIC SELF-SUFFICIENCY: HB1462 was amended and passed out of the House committee this week. The bill blocks future federal waivers that could improve access to the Supplemental Nutrition Assistance Program (SNAP). In the event of another recession, Arkansas would normally be allowed to apply for a waiver to help people stay on the program longer. SNAP is the most important state and federal program for hunger prevention, and the waivers Arkansas received during the most recent recession were essential for hunger prevention for thousands of people. Read more on how these waivers help prevent hunger here.
EDUCATION: Thursday, we saw the final defeat of a bill that would have stripped state funding from colleges and universities deemed to have created "sanctuaries" for undocumented immigrants. The House Education Committee failed to pass HB 1042 for the second time, which means the bill is dead for this session.
The Arkansas Campaign for Grade-Level Reading held a Day at the Capitol on Wednesday. State senators and representatives, officials, and education advocates gathered for a legislative breakfast to learn more about the importance of pre-K, after-school and summer programs, and early literacy initiatives. Then, advocates headed to the Capitol, where they attended committee meetings and visited with their legislators. Several legislators read to a pre-K class from Little Scholars Academy in Maumelle. A very special thank you to Rep. Vivian Flowers, Rep. Jack Fortner, Rep. Andy Mayberry, and Rep. Laurie Rushing for sharing some time – and their love of reading! – with this group of little learners. Read more about the day here.
HEALTH: This week HB 1516, which establishes certain nurse-to-student ratios based on their students' acuity or level of medical need, failed this week in the House Education Committee. There was considerable debate about identifying a funding source to support this mandate.
See below for a look at all the bills we're tracking so far. Keep an eye on our blog for the latest news and updates. And follow us on Facebook and Twitter for additional thoughts and analysis.