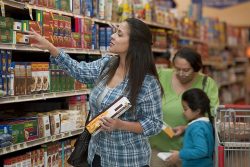 A significant victory for anti-hunger advocates (the defeat of HB1035) was tempered by the introduction of a new bill (HB1462), which could be even more damaging to families who rely on food assistance. HB1462 puts families at risk of hunger in Arkansas by blocking any future federal waivers that could improve access to SNAP (the Supplemental Nutrition Assistance Program). In the event of another recession, Arkansas would normally be allowed to apply for a waiver to help people stay on the program longer. SNAP is the most important state and federal program for hunger prevention, and the waivers Arkansas received during the most recent recession were essential for hunger prevention for thousands of people. This measure would prohibit that type of help in the future.
When times get tough, state programs like SNAP are allowed more flexibility from the federal government. During the recession, Arkansas and many other states received waivers that made it possible for residents to continue getting help with food and grocery needs. The waiver lifted certain time restraints and other restrictions with the understanding that exceptionally high unemployment rates prevented people from getting back on their feet as easily. If a rural county has limited employment opportunities for people with limited education and no transportation, finding a job is almost impossible. This bill will make it incredibly hard to access food, on top of having limited access to employment.
States, however, aren't required to apply for or accept those waivers. In fact, Arkansas already passed on a chance to provide waivers to certain high unemployment and economically depressed regions of our state in 2016. This action caused over 24,000 people subject to the time limit to lose access support past the usual three-month limit. HB1462 would prevent Arkansas from receiving these waivers at any point in the future, even if we face another recession. In that scenario, local food banks would be overwhelmed with demand from workers who have been kicked off the program. That would leave thousands of additional kids and families with empty pantries, in a state where many children already go to bed hungry.
The bill is brief, but devastating. In just one sentence it prevents our state from being able to help hungry people during a future economic crisis. It reads:  "The Department of Human Services shall not seek, apply for, accept, or renew any waiver of requirements established under 7 U.S.C. 2015." It doesn't make sense to refuse federal waivers, which can and have helped people make it through their toughest times without cost to the state. Blocking waivers puts low-income families at risk of going hungry during an economic downturn, and is in no way beneficial to Arkansas.