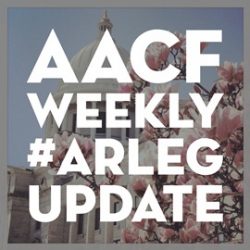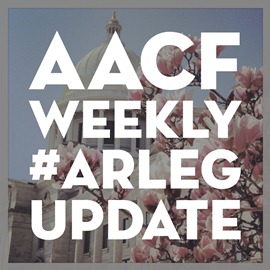 Now in the home stretch of the legislative session, it was a busy week at the Arkansas State Capitol. Here are some of the week's big developments.
HEALTH: Both chambers overwhelmingly passed a resolution this week that encourages Governor Hutchinson to take the steps necessary to extend ARKids First coverage to lawfully residing migrant children who would be eligible for the program. This change, allowed and funded under federal law, would be especially beneficial to children born in the Marshall Islands. With  House Concurrent Resolution 1012, the Legislature showed its support for the state to seek permission from the federal government to change the policy. More information is here.
An anti-fluoridation bill failed on Thursday to win the recommendation of the House Committee on Public Health, Welfare and Labor. House Bill 1865 would have taken away the 2011 requirement that cities of a certain size provide a minimum standard of fluoridation in their water systems. We expect to see another effort to pass this or other anti-fluoridation legislation before the session concludes. SB299, which allowed local municipalities to determine whether the water system would be fluoridated, also failed this week.
A key bill that will change the way Medicaid services are provided to people who are receiving care for developmental disabilities and behavioral health diagnoses passed out of the House and Senate this week. HB1706 allows the state to move toward a provider-led organized care model (similar to managed care). It was amended to include a patient bill of rights and to establish a consumer advisory council, which will require an additional vote.
EDUCATION: House Bill 1222, which would have funneled $12 million in public tax dollars to private schools, failed on the House floor on Thursday. However, the language of HB1222 has been added to Senate Bill 746, which could run in the Senate Education Committee as early as Monday. Read AACF's blog post to learn more about voucher programs and their impact on public education.
FAMILY ECONOMIC SECURITY: As we mentioned last week, payday lenders are attempting to pop up again in Arkansas. But there's legislation out there that intends to stop them. SB 658 clarifies language that some lenders are using as a loophole to charge interest rates that exceed the state's constitutional limit. The bill passed out of the Senate on Monday and out of the House Insurance and Commerce Committee on Wednesday. Read more in a blog post here.
See below for a look at all the bills we're tracking so far. Keep an eye on our blog for the latest news and updates. And follow us on Facebook and Twitter for additional thoughts and analysis.