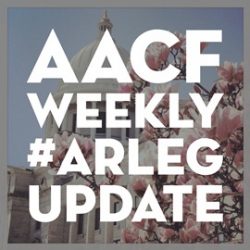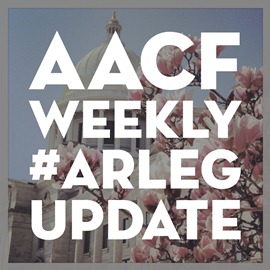 JUVENILE JUSTICE: The House Judiciary Committee approved, by a voice vote, a Do Pass recommendation for SB 294 to establish the Fair Sentencing of Minors Act. It prohibits sentencing youth to life without parole. It also creates a process for re-sentencing the 110 inmates in Arkansas prisons currently serving life without parole for offenses they committed as minors. The bill has already been approved by the Senate. SB 294 will be voted on by the full House on Monday, March 13.
FAMILY ECONOMIC SECURITY: Payday lenders are popping up again in Arkansas, and there is legislation that intends to stop them. SB 658 clarifies language that some lenders are using as a loophole to charge interest rates that exceed the state's constitutional limit. The bill passed out of the Senate Insurance and Commerce Committee on Thursday. Read more in a blog post here.
HEALTH: This week, HB 1706, the state's effort to implement a provider-led organized care model (similar to managed care), passed out of the House Public Health Committee. The bill was amended to include a consumer advisory committee consisting of consumers who are receiving developmental disability and behavioral health services.
Today also marks the 20th anniversary of ARKids First (Arkansas's state-funded health insurance program for uninsured kids). When the program was passed in 1997, almost a quarter of Arkansas children were uninsured. Today, that number is at a historic low – below 5%! We celebrated the anniversary with a panel discussion at the Clinton School of Public Service yesterday, where we also debuted a video featuring some of the key individuals who helped get it passed (former Arkansas Governor Mike Huckabee; former AACF Executive Director Amy Rossi; former Arkansas Medicaid Director Ray Hanley; and others). Watch the video here. Were you an ARKids kid with a great story of how ARKids impacted your life? Let us know here!
EDUCATION: HB 1811 would require any pre-K program that receives state funds to be approved by the Arkansas Department of Education (ADE) rather than the Department of Human Services' Division of Child Care and Early Childhood Education (DCCECE). It would also give ADE authority to establish pre-K academic standards that are aligned to standards approved for K-12.
See below for a look at all the bills we're tracking so far. Keep an eye on our blog for the latest news and updates. And follow us on Facebook and Twitter for additional thoughts and analysis.