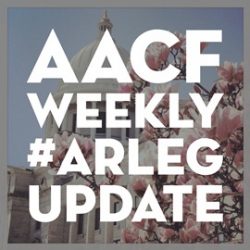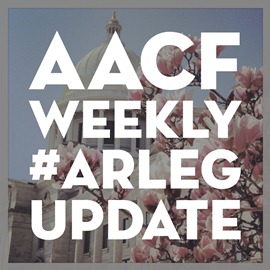 As this legislative session draws to a close, the State Capitol is a busy place! We have quite a few victories to celebrate, some of which are detailed below:
EDUCATION: It was a busy week at the Capitol for education! AACF and other education advocates helped defeat a second school voucher bill, SB746 (based on the previous HB1222), which would have funneled up to $9 million in public tax dollars to private schools.
The Right to Read Act (SB502) and a bill to improve dyslexia screening and interventions in public schools (SB708) also passed the House Education Committee and will be voted on in the Senate this afternoon. The Right to Read Act requires elementary and special education teachers to receive training and demonstrate competency in the science of teaching reading, which research has proven to be most effective in helping students read on grade level.
Finally, two school discipline bills also passed the House Education Committee: HB1859 and SB609. AACF worked with the Arkansas Department of Education (ADE) on HB1859, which will improve data collection and transparency on how school discipline is administered, as well as disparities in disciplinary actions for racial or ethnic subgroups, low-income students, or students with disabilities. SB609 would ban out-of-school suspensions and expulsions for students in grades K-3, unless a student poses a harm to himself or others and all other disciplinary measures have been tried and failed. This bill would help keep our most vulnerable children in the classroom and encourage schools to use more effective, research-based disciplinary methods, like restorative justice.
HEALTH: Legislation to continue to fund the state's Medicaid expansion program, Arkansas Works, passed out of both chambers this week. The Medicaid appropriation bill, SB196, initially failed in both the Senate and House, before receiving the three-fourths majority vote required for appropriation bills. This bill allows funding for the Medicaid program for the next year, including the Arkansas Works program.
We celebrated on Wednesday with Governor Hutchinson and the Marshallese community the signing of House Concurrent Resolution 1012 by Rep. Jeff Williams of Springdale, which encourages the Governor to take the steps necessary to extend ARKids First coverage to children born in the Marshall Islands. This is allowed under federal law, but the state has to seek permission to change Medicaid policy. The Governor, who signed the resolution amid much fanfare, said his staff is already working on it.
CONSTITUTIONAL CONVENTION: Senate Joint Resolution 2 by Sen. Gary Stubblefield – which would have called for the first constitutional convention since 1787 to amend the U.S. Constitution – failed this week in the House.
See below for a look at all the bills we're tracking so far. Keep an eye on our blog for the latest news and updates. And follow us on Facebook and Twitter for additional thoughts and analysis.