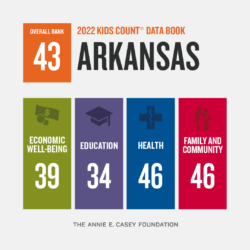 We all want to live in a state where children and families have the tools they need to thrive. That's why we were glad to see improvement in economic well-being in Arkansas between 2008-2012 and 2016-2020 according to the 2022 KIDS COUNT® Data Book. However, we are still near the bottom of the pack on this domain, as our ranking at 39th out of 50 shows.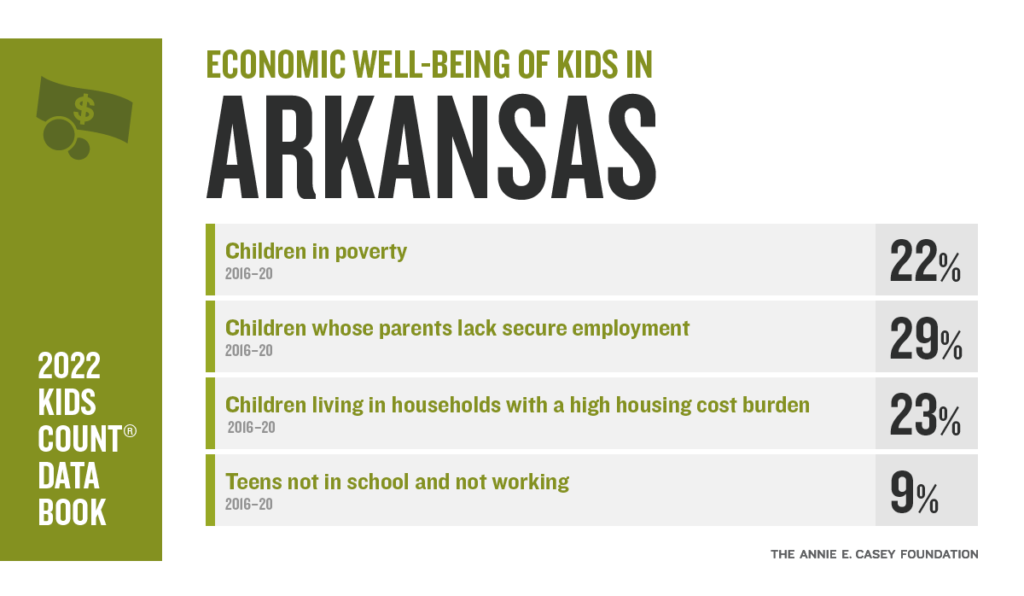 The share of children growing up in poverty shrank from 27% to 22%, but our ranking only improved to 44th from 47th. And the percent of children living in families where no parent has full-time, year-round employment has only improved from 34% to 29%, which puts us below the national average of 27% and at rank 36th out of 50.
In some cases, we are even further behind other states than we used to be despite our nominal improvement.
For example, we slipped from 12th to 13th in the percent of households that spend more than 30% of their income on housing, improving from 31% to 23%. And the same was true for the share of teens ages 16 to 19 not working or going to school. Our performance improved from 11% to 9%, but our ranking slipped to 43rd from 42nd. What does this mean? It means that, as all states generally improve, Arkansas will remain close to the bottom in child well-being rankings if we continue to do the absolute minimum to improve conditions for children and families.
We have improved in every indicator related to economic well-being, but these improvements are minor rather than transformative. Clearly, year after year of tax cuts that primarily benefit the wealthy will not help every person in Arkansas, regardless of their race, income, or zip code, achieve success. A state budget that puts more dollars toward programs to help children and families, like childcare for infants and toddlers, early childhood education, affordable housing, and health care for moms and babies would do more to help all Arkansans.
Last week the Arkansas Legislature approved income tax cuts that will mostly benefit the wealthy and corporations. It will put our future state budget at even greater risk for being unable to fund critical programs and services, including those meant to help the 1 in 5 children living in poverty.
To make Arkansas a great state to be and raise a child, we've got to invest in improving conditions for families, especially those with low incomes. We need to reduce the number of children living in poverty (until there are none) and to keep a close eye on our housing affordability. If we want transformative improvements, we have to make transformative investments. Continued tax cuts for the wealthy won't get us there.