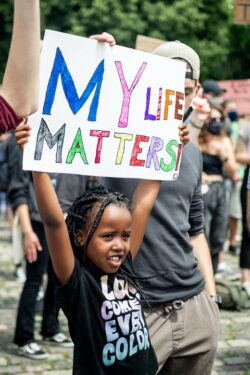 Tomorrow, it will be one year since President Biden signed legislation making Juneteenth a holiday. Also known as Emancipation Day or Black Independence Day, Juneteenth celebrates the day, June 19, 1865, that Black enslaved people in Texas learned that they had been declared free more than two years prior, when the Emancipation Proclamation was signed by President Lincoln.
For more history and background on Juneteenth please see our blog that recognizes the importance of our newest federal holiday, Juneteenth National Independence Day: A First Step, But Not The Last.
A Year in the Life of Black America
In the past year, we have made little progress on the issues that disproportionately affect Black Americans, and we still have a lot of work ahead of us. 2021 and 2022 saw a wave of redistricting across the nation that diluted the power of Black lawmakers and Black voters. Here in Arkansas, a lawsuit was filed in federal court challenging the redistricting plan approved in 2021, in part because it split Pulaski County, moving 23,000 predominantly Black voters out of the 2nd District and splitting them between the 1st and 4th district.
As we move into a legislative session here in Arkansas in 2023, we can expect to see more legislation targeting voting rights, restricting access to voting, decreasing access to ballot initiatives, and targeted attacks on who is allowed to vote. As states across the country continue to restrict voting rights, we need Congress to pass the For the People Act, a bill that would protect voting rights at the national level that has been stalled in Congress since March of 2021.
High-Profile Cases and Legislation
And, although the Black Lives Matter social justice movement drew attention to the racial injustices Black Americans face, especially in 2020 after the murders of George Floyd, Ahmaud Arbery, and Breonna Taylor gained national attention, comprehensive reform has not resulted. While former police officer Derek Chauvin was convicted in state court of the murder of George Floyd in 2021, he appealed that conviction in 2022. This, despite having pled guilty last year to federal charges of violating Floyd's civil rights resulting in Floyd's death.
In addition, we saw a federal jury find Travis McMichael, Gregory McMichael, and Willian Bryant guilty of hate crimes in the murder of Ahmaud Arbery. But the only officer charged in the murder of Breonna Taylor, Brett Hankinson. faced only charges of wanton endangerment at the state level. He was acquitted in early 2022, and so far federal authorities have not brought additional charges.
Justice is clearly not equal; and according to the Washington Post data on police shootings, Black Americans continue to be killed at disproportionately higher rates by police (more than twice the rate of their White counterparts). Local departments and states have had the opportunity to fix these problems but have so far failed. Instead, individual families continue to fight for justice for their family members who have been murdered. The #SayTheirNames movement aims to bring awareness to the numerous Black Americans killed each year now that the national furor over these senseless killings has tapered off.
More than two years after the murder of George Floyd was spread far and wide, caught on camera, forcing us to a reckoning with the injustice of police killing yet another unarmed Black man, Congress has failed to act to restore faith in what is clearly an injustice system. The George Floyd Justice in Policing Act would increase accountability for police misconduct, end racial profiling, and empower our communities. This would be a great first step towards reforming policing. Yet, although it has passed the House, it has languished for more than two years without a hearing in the Senate.
One important positive is that Congress finally passed the Emmett Till Antilynching Act, and President Biden signed it into law on March 29, 2022. But it came after more than 200 attempts to pass similar antilynching legislation and 122 years after an antilynching petition was first introduced by Representative George Henry White (D-NC). It also was 66 years too late for the family of the bill's namesake, Emmett Till, to see justice served. Till was a 14-year-old boy who was lynched after a White woman lied about Till grabbing her and threatening her. Emmett Till's mother Mamie Bradley's decision to have an open casket, allowing everyone to see what had been done to her son, that helped spark the civil rights movement.
A Holiday is not Enough to Call Progress
So, while I will again this year encourage everyone to find a meaningful way to celebrate Juneteenth, I hope that you will also help push our representatives to be accountable for real reform in policing and voting and everything else that needs to be fixed so that Black people can be full participants in our American society. Remember that it's not Juneteenth only, it's Juneteenth AND criminal justice reform, its Juneteenth AND voting reform, its Juneteenth AND all the things that still await us after the holiday passes.
How You Can Celebrate And Learn More About Juneteenth
Now that Juneteenth is a federal holiday, here are resources to help you learn more about the history and significance of Juneteenth:
If you are interested in participating in Juneteenth events, both virtual and in-person, occurring around the state and nationally, here are a few that may be of interest: