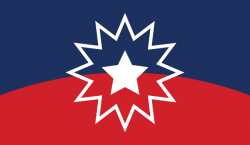 As I write this, President Biden has just signed a bill to make Juneteenth the first new federal holiday since Martin Luther King, Jr. Day was added in 1983.
This is great news, and Juneteenth should be celebrated by all. But to celebrate in good faith, we must not only take the day off, or attend events. We also must educate ourselves about what Juneteenth truly stands for and prepare ourselves to continue the ongoing fight for racial equity.
Learn about the Juneteenth Flag here.
A brief history of Juneteenth
Juneteenth is also known as Emancipation Day, or Black Independence Day. It has its official roots in the celebration of the end of slavery in Texas. President Abraham Lincoln officially outlawed slavery, effective January 1, 1863, in all secessionist states. But word did not reach enslaved people in Texas until more than two years later when Major General Gordon Granger arrived in Galveston on June 19, 1865, bringing news of both the end of slavery and the Civil War. Black people who were freed from enslavement celebrated after the announcement at their peril, because slaveowners were loath to give up their power.
Although Juneteenth is popularly identified as the end of all slavery, many border states, including Delaware, Kentucky, and Missouri, did not immediately outlaw slavery; and many Southern States continued to legally permit it. It took until the 13th Amendment to the U.S. Constitution was ratified on December 6, 1865, for chattel slavery to be formally abolished.
Even then, the amendment left in place a loophole that allowed slavery to continue to exist so long as it applied "…as punishment for a crime whereof the party shall have been duly convicted." This loophole paved the way for criminalization of blackness and led to the massive prison industrial complex we have today.
Annual celebrations of Juneteenth began as far back as 1866 when the Freedman's Bureau organized a celebration of Jubilee Day in Texas. Eventually these celebrations spread throughout the country and became known as Juneteenth, combining "June" and "19th." Since the 1980s, Juneteenth has become more widely celebrated within Black communities, and it has gained mainstream popularity and recognition.
On becoming a recognized holiday
States, localities, and even businesses in recent years have recognized the importance of Juneteenth. Texas was the first state to recognize the historic importance of Juneteenth as a state holiday in 1980, and Hawaii became the most recent just this week. Arkansas recognized Juneteenth as a state holiday in 2005, and this year Fayetteville passed an ordinance making Juneteenth a paid city holiday starting in 2022. A variety of companies have begun giving their employees a paid day off for Juneteenth including the NFL, Twitter, BestBuy, Target, and Nike.
Now that Juneteenth is a national holiday to celebrate freedom for all peoples of the United States, we have an opportunity to fully embrace inclusivity and equity for all members of our society. We should start by recognizing that the promise of freedom, celebrated in the United States on July 4, has never included all people. Independence Day celebrates July 4, 1776, a date when hundreds of thousands of people were held in slavery in our country.
We must all take care to ensure this holiday doesn't become yet another token offering. For many, the past year has just opened their eyes to the reality that many Black, Indigenous, and People of Color (BIPOC) communities have been dealing with for centuries. And while this is a milestone to be celebrated, a federal holiday cannot be the end.
Racial equity is about so much more than Juneteenth
The year 2020 was rough, and this year has continued to be a long, hard road. We have now had more than a year of suffering under a pandemic that has disproportionately affected BIPOC communities. The publicity surrounding the murders of unarmed Black men and women, including Breonna Taylor, Ahmaud Arbery, and Duante Wright, as well as the public trial and conviction of police officer Derek Chauvin for the murder of George Floyd, led to increased civil unrest as everyday people sought some way to make their voices heard.
The Black Lives Matter (BLM) movement and the protests of the past year have increased awareness of both systemic racism in policing and the criminal justice system, as well as the structural racism built into all aspects of American society. And so now we arrive at a point where we can choose to stop the whitewashing of our racial history and begin to reckon with it.
Unfortunately, many state legislatures across the country have shown they are still unwilling to deal with our racist history by banning the teaching of Critical Race Theory or the 1619 Project; restricting access to voting; or prohibiting, as Arkansas did by passing SB 627, efforts to increase awareness of racism in state government. These laws signify a refusal at all levels of government to deal with the reality of BIPOC people.
How can we truly celebrate Juneteenth if children will not learn about its significance because the teaching of truth has been banned? We can all make one small step forward by embracing Juneteenth as a national holiday and learning about our history of slavery and its intentional byproducts. We must also celebrate Juneteenth together as a holiday of freedom, not as a holiday for Black Americans only, but one that is for all of us.
Juneteenth cannot be the last step but must be part of the ongoing march of a larger movement. Meaningful reforms that would protect all Americans remain stalled in the halls of our nation's Capitol. Why is the For the People Act, a bill that would protect voting rights at the national level, still stalled in Congress? Where is the passage of the Emmett Till Antilynching Act, which would add lynching to the list of federal hate crimes? What about the George Floyd Justice in Policing Act, which would increase accountability for police misconduct, end racial profiling, and empower our communities?
So, we passed Juneteenth. We celebrate this while knowing there are many more policies that need to be implemented to dismantle the white supremacist culture that is inherent in our society. Congresswoman Cori Bush (D-MO) summed it up nicely in a tweet following the passage of the bill in the House and Senate, with her it's "Juneteenth AND" philosophy. It's Juneteenth AND we must maintain the pressure on our legislators to pass meaningful policy reforms that will affect lives. So, enjoy Juneteenth this weekend, but just know there are miles to go before we sleep.
How you can celebrate and learn more about Juneteenth
If you are interested in learning more about the history of Juneteenth, you can find more resources here:
If you are interested in participating in Juneteenth events, both virtual and in-person, occurring around the state and nationally, here are a few that may be of interest: