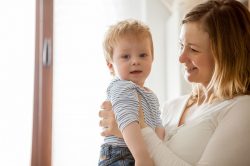 Update: Good news alert! The budget deal approved early this morning (Feb. 9th) extends Children's Health Insurance Program funding for 10 years, along with funding for two years for community health centers and several other provisions that will improve health policy. Congress still has to craft the details that will become the federal budget (government is funded only through March 23rd right now), but the news is definitely worth celebrating.
Last month, Congress voted to end the standoff on the Children's Health Insurance Program (CHIP) with a 6-year extension. That was long overdue. The authorization for CHIP had expired on September 30, 2017, and the program stayed afloat through a series of short-term funding extensions. Those delays left families and state officials uncertain about how long the program would last.
But new Congressional Budget Office estimates made clear that a 10-year extension would actually save federal money. So a longer authorization of CHIP was clearly the right decision not only for children's health but for the budget, as well.
Today's decision helps ensure that children in the ARKids First program will continue to have coverage, since Medicaid and CHIP dollars help to support this program in Arkansas. CHIP ensures children have a consistent source of coverage. It benefits working families who don't qualify for Medicaid, but still can't afford the high cost of health insurance for their children. CHIP funding also helps the state budget, by off-setting the cost of covering these children. In 2016, Arkansas received $176 million in CHIP funding. Without these federal dollars, Arkansas lawmakers would have been left to find a solution — likely covering fewer children, paying health professionals less, or raising taxes to pay for the program.
Unlike many of the more contentious issues, like immigration and tax reform, the CHIP program has a long history of bipartisan support. In fact, back in November 2017, the House voted on a bill to extend CHIP funding for five years. However, that attempt stalled because of disagreement about how to pay for the program, which would have cut other health care funding. The new budget estimates for the 10-year extension ended the partisan debate on how to fund the program.
If the final details are approved as agreed upon today, CHIP is now funded through 2027. While the CHIP program can no longer be used for leverage, there are still many important decisions on the horizon. Congress still needs to take action to protect young immigrants who are safe from deportation under the Deferred Action for Childhood Arrivals, or DACA, program. This affects an estimated 10,000 young people in Arkansas, who are working or in school and who just want to continue contributing to the state they call home.
In the coming months, we know that safety-net programs like Medicaid, Medicare, and SNAP are at risk for cuts to make up for revenue lost due to sweeping federal tax changes.
For now, we can all celebrate this big victory for children who deserve to have regular access to a doctor and to live healthy lives. We are grateful that Congress put politics aside to prioritize families, and we are hopeful that this bipartisan collaboration will continue as our leaders consider policies that impact families across the nation.