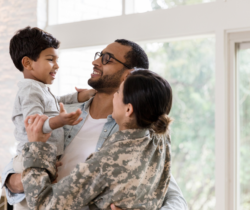 Across the country, most states saw worsening or stagnant poverty rates and incomes between 2019 and 2021 — an anticipated impact of the pandemic and its economic repercussions. Arkansas falls into the "stagnant" category: between 2019 and 2021, Arkansas's children experienced a slight (0.4%) increase in poverty, while families experienced a slight (0.1%) decrease in the same measure. Meanwhile, households saw median incomes increase by 1.3%.
The new state-level data, released today from the U.S. Census Bureau's American Community Survey (ACS), point to the extreme importance of the federal and state investments made during the COVID-19 pandemic. But because poverty and income data from the ACS do not directly reflect the value of relief programs (other than unemployment insurance), it cannot be examined in isolation.
In connections to the new state data, the Census also released national data on Tuesday, which showed that government investments drove child poverty rates to historic lows in 2021. Poverty overall also reached a record low, and the national uninsured rate dropped substantially, with Medicaid and Affordable Care Act (ACA) coverage reaching or nearing record highs. The dramatic drop in child poverty was due chiefly to the expansion of the Child Tax Credit in 2021, which kept 5.3 million people above the annual poverty line. Incomes have followed a more complicated path: Despite rising employment, median household income stayed at 2020 levels in 2021 due to the expiration of unemployment benefits and several months of high inflation that eroded wage gains.
Overall, federal investments shielded many Arkansas families from more severe hardship and helped shorten the country's economic crisis. However, Arkansas lawmakers failed to advance the sorts of long-term, family-focused investments made through policies like the expanded child tax credit. Instead, they sped up tax cuts that mostly benefit the wealthiest residents while ignoring many Arkansans of color and families with low incomes.