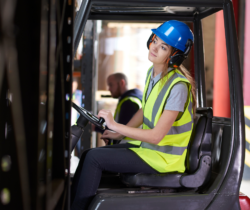 HB1410 passed the Senate yesterday and will become law, removing a state permitting process that helps prevent child labor violations. We want to thank the many child advocates around the state who wrote and called their legislators urging them to vote "no." Even though this harmful bill passed, the letters and calls of AACF friends and supporters helped ensure HB1410 did not slide through the General Assembly without notice. It received a lot of attention at the Capitol and in the media, resulting in much debate.
With the passage of HB1410, businesses will no longer be required to obtain parental consent to hire 14- or 15-year-olds. Employers will no longer be required to submit written proof to the Department of Labor to verify that the child is old enough to work and that their hours of work comply with the law. Kids who are 14 and 15 were already able to get jobs, but the state Department of Labor recognized that their young age required another layer of protection in the hiring process. The free and fast work-permitting process simply made sure businesses acknowledged – in writing – that they understood and would follow the special protections we require to ensure children's safety. And nothing is more important than that.
There was a lot of misinformation and sidestepping in the debate on the Senate floor yesterday. The biggest misconception was that the permit process is an impediment to 14- and 15-year-old children working. Many of the legislators who spoke in support of the bill discussed how working as a child helped shaped who they are today. And we agree that work can have a positive impact on children. But this law was in place when those legislators worked as children. Because it has been the law for over 100 years.
News story after news story in the past two weeks have shown how we need to be casting a critical eye over the employment of children, as businesses across the country exploit our children and put them in dangerous situations. We should be talking about the terrible actions of these businesses, instead of taking away existing safeguards we have for children. We should be maintaining protections, instead of waiting for children to come to harm before getting involved.
This is a difficult loss. But children still need us to speak up for them at the Capitol, and we are proud to work alongside our fellow advocates.