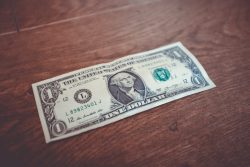 Tax cuts, surplus, and the Waiver waiting list
This blog is the first in a series of blogs Arkansas Advocates for Children and Families will be sharing over the next year on how Arkansas's tax system could work better for everyday Arkansans and how revenue from taxes should be invested into programs that benefit our communities.
Waiver and workforce, that is what Syard Evans with Arkansas Support Network thinks when she hears that the state is considering spending hundreds of millions of dollars from the state budget to pay for tax cuts that will largely benefit the wealthiest.
The federal program for home and community-based service waivers for Medicaid began in the 1980s and was first implemented in Arkansas in the early 1990s to allow people who have intellectual or developmental disabilities to receive the supports and services that they need to manage their daily lives while living in their communities. Prior to the Medicaid Waiver, the primary support options available to individuals with developmental disabilities with significant functional limitations were segregated and restrictive residential and institutional placements. Through Arkansas' Community and Employment Support (CES) Waiver, people with developmental disabilities can get the support they need and to be part of their community.
About 4,800 Arkansans currently receive home and community-based services through the CES Waiver. Recently, Arkansas invested money obtained from the PASSE provider tax revenue into opening an additional 700 waiver slots, but approximately 3,000 Arkansans remain on a waiting list to receive CES Waiver services. Arkansas, like all states, receives a federal match for the dollars it spends on Waiver services, which means that spending money on Medicaid Waiver services results in additional money coming into the state from the federal government to support Arkansans with disabilities. The state government has maintained the Medicaid Waiver waiting list and continues to cap the number of people who can participate in the waiver program, even though the state has not allocated about $1 billion in state revenue and are soon considering whether to spend hundreds of millions of dollars in tax cuts for the wealthiest in our state.
For families waiting on the waiver list, the ramifications can be significant. Syard said that many individuals and families struggle to maintain the appropriate supports for individuals with disabilities while trying to maintain employment and other responsibilities. Individuals with disabilities are often limited in the activities and life pursuits they can participate in without appropriate supports, and as children age into adults and lose the supports of educational services, support needs increase and become even more significant. With people waiting sometimes years on the waiver waiting list, families are forced to make difficult choices. Syard said that many individuals wait for services for more than a decade. With such long delays to receive services, advocates often recommend that parents whose baby has a developmental disability apply for waiver services as soon as possible.
But even people who are receiving services through the waiver are currently struggling to obtain the services they need at times. Another reason Syard questions how the Arkansas government chooses to spend state dollars. She says reimbursement rates for services are very low, resulting in staff being paid low-wages and trouble recruiting and retaining staff. Syard said highly skilled staff are needed to provide support to Arkansans receiving CES Waiver services to help them achieve their goals and pursuits. Staff must have great communication skills, problem-solving abilities, time and organizational management skills, assessment skills, planning abilities, crisis response techniques, and more, as they interact with everyone from landlords, employers, medical professionals, and at times people in the legal system to be an advocate for the person they are supporting. With higher reimbursement rates, providers would be able to recruit and maintain the highly skilled workforce they need.
Our state budget reflects what our state values. But from services for Arkansans who have developmental disabilities to after-school and summer programs and more, our state government has been choosing not to fully invest in everyday Arkansans. Syard thinks that lawmakers who choose not to invest more into the waiver program cannot understand the struggles families face.
But hopefully, when the Arkansas General Assembly convenes to decide on whether to take hundreds of millions of dollars away from the state budget to pay for tax cuts for those with the highest incomes, they will consider how such a decision will impact the quality of life of families across the state.