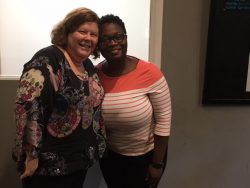 On July 19, 2017, at 5 p.m., Arkansas Advocates for Children and Families and KABF 88.3 aired the twenty eighth episode of "Speak Up Arkansas," a talk radio show dedicated to covering issues like health care, education, juvenile justice, the state budget, family and economic security, and more.
What is public education doing to address the rise in charter schools and the calls for school choice? How are rural schools dealing with these issues and the potential closure of more schools across Arkansas? What are some of the innovative approaches that are working? How are schools addressing the school to prison pipeline? What can parents do to get their kids ready for the upcoming school year? Kathy Kohler, the newly elected President of the Arkansas Education Association, and Candice Williams with the Rural Community Alliance address these question and more on this segment of Speak Up Arkansas.
Hear the entire one-hour segment in this podcast and tune in to KABF 88.3 every Wednesday at 5 p.m. for more great segments. Send questions and comments to speakupar@gmail.com.