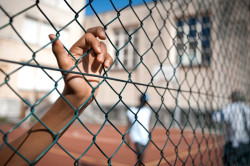 On January 25, 2017, at 5 p.m., Arkansas Advocates for Children and Families and KABF 88.3 aired the fourth episode of "Speak Up Arkansas," a talk radio show dedicated to covering issues like health care, education, juvenile justice, the state budget, family and economic security, and more.
This week's episode was broken into two parts. Part II was about Senate Bill 294, which concerns the "sentencing of a person under 18 years of age; establishing the Fair Sentencing Act of Minors Act of 2017; and for other purposes." We hear from James Dold with the Campaign for the Fair Sentencing of Youth; Rep. Greg Leding, co-sponsor of SB 294; and Xavier McElrath-Bey, a young man who was formerly incarcerated for a crime committed when he was a minor. In a separate podcast, we'll just include Xavier's powerful testimony.
Hear the entire half-hour segment in this podcast and tune in to KABF 88.3 every Wednesday at 5 p.m. for more great segments. Send questions and comments to speakupar@gmail.com.