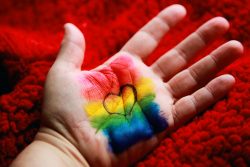 June is nationally recognized as Pride Month for the LGBTQIA+ community. This month-long celebration was established to recognize how individuals within the LGBTQIA+ community have strengthened American society. Pride month is a time of liberation, love, acceptance, and provides those who identify on the LGBTQIA+ spectrum the space to be unapologetically themselves without judgement or shame.
Unfortunately, in the state of Arkansas there is a feeling of gloom that has persisted into this month that stems from the state legislative session earlier in the year. This is due to Arkansas being the first state to pass legislation that will deny trans youth the ability to receive medically necessary treatment.
Denying trans youth health care
On March 29, 2021, the Arkansas Legislature passed HB 1570 (Act 626), "Save Adolescents From Experimentation Act," which bans physicians from providing gender-affirming care for transgender youth under 18 years of age. This means that doctors would be unable to provide transition-related treatments such as hormonal therapy, puberty blockers, or gender transition surgeries (these surgeries are already not performed in Arkansas). If doctors do provide any of these treatments they could risk losing their medical license.
In addition, it bars any state funds or insurance coverage for gender-affirming health care for transgender people under 18 years of age. This means that gender-affirming treatment, procedures, or medication, would not be covered through Arkansas' Medicaid. It would also allow private insurers to refuse coverage for gender-affirming care for anyone, regardless of age.
Many advocacy groups like Trans Lifeline, Human Rights Campaign, and the Arkansas Civil Liberties Union (ACLU) called on Arkansas Governor Asa Hutchinson to veto the anti-trans rights legislation. On April 6, 2021, Governor Hutchinson vetoed HB 1750, stating "This is a government overreach. You are starting to let lawmakers interfere with healthcare and set a standard for legislation overriding healthcare." He also expressed, "The state should not presume to jump into every ethical health decision."
Hutchinson's veto of HB 1750 was returned to both the Arkansas Senate and House and was overridden by both overwhelmingly conservative chambers. Act 626 is now expected to become law on July 28, 2021.
There was shock throughout the nation. People couldn't understand how this bill could be passed. Why would individuals want to target transgender youths' ability to access adequate healthcare? But this was just one of the many anti-transgender bills introduced during legislative sessions throughout the country. Thirty-three states introduced more than 100 bills targeting the rights of those within the transgender community. Twenty-nine of those bills were focused on restricting or banning transgender medical care.
Other anti-trans bills passed in Arkansas
In Arkansas, Gov. Hutchinson signed the "Fairness in Women's Sports Act." This bill will prohibit trans girls and women from participating in school sports consistent with their gender identity. This bill will apply to all sports sponsored by public schools from elementary level throughout college. Private schools will be expected to comply with this law if they compete against a publicly funded school. It is expected to go into effect in the summer of 2021.
Another bill was also passed in Arkansas that did not directly target the trans community but has potential negative implications for them. SB 289, "To Create the Medical Ethics and Diversity Act," was also signed into law by the Governor. This law will allow doctors and other health care workers to deny non-emergency services based on their own personal religious, moral, or ethical beliefs. This law will give medical providers the ability to discriminate against patients due to their own biases.
Response to anti-trans laws
In response to the Arkansas legislative session, the U.S. Department of Health and Human Services released a statement on May 10, 2021, stating that the current administration is working to protect the health care rights of transgender Americans. The U.S. Department of Justice Office of Civil Rights will utilize current federal laws to prevent individuals from being discriminated against based on sex, which includes sexual orientation and gender identity. The specific law, Section 1557, states that discrimination based on race, color, national origin, sex, age, or disability will not be allowed in covered health programs or activities.
To stop Act 626 from becoming law on July 28, the ACLU has filed a lawsuit against the state of Arkansas in federal court, on behalf of four transgender youth and their families and two physicians. The lawsuit alleges that Act 626 violates the United States Constitution. The families and physicians have expressed the challenges they will face if the law goes into effect next month. Holly Dickson, Executive Director of the ACLU of Arkansas states, "Gender-affirming care is life-saving care for our clients, and they're terrified of what will happen if this law is allowed to take effect. No child should be cut off from the medical care they need or denied their fundamental right to be themselves — but this law would do both. We're suing to stop this cruel and unconstitutional law from taking effect and inflicting further harm on these children and their families."
On June 17, the U.S. Justice Department filed a legal brief in Arkansas stating Act 626 is unconstitutional. They argue the law violates the right to equal protection under the law, as granted by the U.S. Constitution's 14th Amendment.
What's at risk for Arkansas's trans youth
Negative outcomes are associated with depriving transgender youth with medically necessary treatment. Studies have shown that transgender youth have higher rates of mental health problems. They are also at increased risk of harassment, bullying, violence, and are more likely to commit suicide. The Arkansas Children's Hospital has already reported multiple suicide attempts by transgender youth after the statute was put in place due to the uncertainty of their medical rights.
Gender-affirming care has been shown to have a positive effect on the mental health functioning of transgender youth. Worse mental health outcomes are present for youth who attain transitioning-related treatments at a later age in life. Receiving gender-affirming treatment at an older age will also put transgender individuals at a higher risk of being affected by gender dysphoria, discomfort and distress associated with an individual's gender identity differing from the sex they were assigned at birth. To create better mental health outcomes for transgender youth, we must come to realize that gender-affirming care is life-saving care.
The Affordable Care Act helped to prohibit discrimination for the LGBTQIA+ community. If Act 626 goes into effect next month, it will undue a lot of hard work that was put into place to ensure equal access to care for transgender youth. With the lawsuit underway between ACLU against the state of Arkansas, many are hopeful that transgender youth in Arkansas will not lose their healthcare benefits and medical rights. Every major medical association within the United States, including the American Medical Association, American Academy of Pediatrics, and the American Academy of Child and Adolescent Psychiatry have issued statements of support for providing adolescents gender-affirming care.
Taking away access to gender-affirming care has the potential to cause financial burdens to transgender youth and their families due to having to access medical care outside of the state. Also, removing accessibility to life-saving treatments has the potential to create devastating mental health outcomes and cost us the lives of transgender youth throughout the state. We know that this policy will also disproportionately affect those dealing with the intersectionality of their identity. This means that transgender youth of color, transgender youth in low-income families, transgender youth in mixed-immigration-status families, will be impacted most if this law is put into place. In a month of pride for the LGBTQIA+ community, the potential consequences of this legislation is something Arkansas should not be proud of.