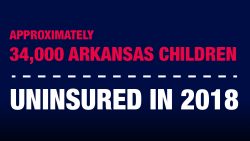 The number of uninsured children increased nationally by more than 400,000 between 2016 and 2018, reversing a long-standing positive trend according to a new report released by the Georgetown University Center for Children and Families. Nationwide, more than 4 million children were uninsured in 2018, the highest level since the Affordable Care Act's major coverage expansions first took effect in 2014.
In Arkansas, approximately 34,000 children (4.5 percent of all kids in the state) were uninsured in 2018, up from around 30,000 in 2016. This 13.3 percent increase in the number of uninsured children in our state shows a reversal of years of progress and took place during a period of economic growth when children should be gaining health coverage.
Health care coverage is critical for healthy development. When children get the health care they need, they're more likely to succeed in school, graduate from high school, attend college, earn higher wages, and be healthy adults.
This news, combined with the fact that enrollment in Medicaid and CHIP is down 9,000 kids over the past 18 months, is another troubling sign for kids' health coverage after decades of progress. Arkansas needs to take a hard look at the data behind these coverage losses and increase outreach to families to ensure their eligible children have access to health care.
Many uninsured children are eligible for Medicaid or the Children's Health Insurance Program but are not currently enrolled.
"As a pediatrician, I understand first-hand how important health insurance coverage is to my patients; it helps ensure children can receive the care and services they need, when they need them," said Lanre Falusi, MD, FAAP, American Academy of Pediatrics national spokesperson. "The findings in this report are deeply concerning to me. For children who are uninsured, I worry about the critical services they are missing out on and what it will mean for their short- and long-term health. Our federal leaders must advance policies that ensure children can get the health care they need to grow up healthy and thrive."
The report finds the following factors have contributed to the erosion in children's health coverage nationwide: efforts to repeal the Affordable Care Act and cut Medicaid; delays in funding the Children's Health Insurance Program (CHIP); elimination of the individual mandate penalty; cuts to enrollment outreach and advertising; inadequate oversight over state Medicaid programs that have created more red tape barriers; and the creation of a climate of fear and confusion for immigrant families that discourages them from enrolling eligible children in Medicaid or CHIP.
Along with the report, the Georgetown University research center launched a new interactive data hub that provides a more in depth look at child health care trends in Arkansas and across the country, allowing users to compare a variety of metrics across states.
In Arkansas, the uninsured rate for children of Hispanic Ethnicity (of any race) rose from 9.3% in 2017 to 12.6% in 2018, demonstrating the "chilling effect" of anti-immigrant policies and discourse at the national level.
By age, Arkansas children under age 6 are becoming uninsured at a faster rate, though Arkansas children ages 6-18 are still more likely to be without insurance coverage. By poverty threshold, the largest increase in uninsured rates in Arkansas was for children in families at 250% of the poverty threshold and above, though Arkansas children in families at 138%-249% (those whose families may be eligible for coverage by the marketplace) remain the most likely to be uninsured.
AACF offers the following recommendations to reverse the recent declines in health care coverage for children:
Adopt continuous eligibility for ARKids A
Conduct ARKids First outreach and enrollment, especially targeting immigrant families
About the Report
This is the ninth annual report on uninsured children published by the Georgetown University Center for Children and Families, an independent, nonpartisan policy and research center founded in 2005 with a mission to expand and improve high-quality, affordable coverage for America's children and families. CCF is based at the McCourt School of Public Policy at Georgetown University in Washington, D.C.