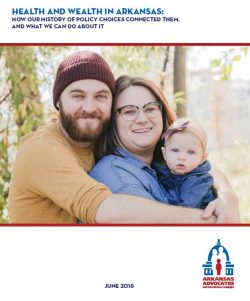 Poverty has long been known to impact health outcomes. People with greater wealth tend to live longer. They also live in safer homes and cleaner neighborhoods. They have access to healthier foods and better health care. Generally, they can avoid many of the health risks associated with poverty, like dangerous jobs and toxic stress. This has an impact on children and their families. A report by the American Academy of Pediatrics shows that child health and birth weight depend on poverty status. Infant mortality, language development, nutrition, and chronic illness are all linked to income. Additionally, living in poverty can make parenting harder, too, because of the inability to ensure the family's basic needs are met and because of the stress associated with this lack of resources.
These findings suggest that we can greatly improve health outcomes by addressing poverty. But in Arkansas, there are many current public policies that discourage wealth accumulation, which means we're stifling our efforts to improve public health. As a result, Arkansas ranks near the bottom in Kids Count child well-being data tracked annually by the Annie E. Casey Foundation. Economic and child health indicators are big factors in our state's perennially low rankings.
Our latest report explores the connections between health and wealth in Arkansas. When we consider these issues together, we can better understand what all children need to succeed in life. We can also understand which public policies can help us achieve this goal. Download the full report to read more about the intersection of health and wealth in Arkansas, along with our recommended solutions to improve conditions for children and families who are harmed by these linked issues.
Plus, see our handy infographic here.