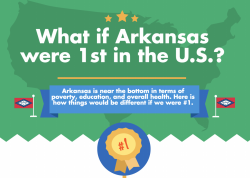 Every year, the Annie E. Casey Foundation releases the Kids Count Data Book, a comprehensive, 50-state look at child welfare. This year, Arkansas made gains in economic well-being, but we lost ground in health, becoming one of the bottom five states in that category. What would it take for Arkansas to climb all the way up to the top? This document shows some of the numbers we'd need to hit to be number one in health, education, economic well-being, and family and community. For example, if we were #1 in education, 15,400 more 3- and 4-year-olds would be attending pre-K, and a third more students would graduate high school on time.
Download the PDF here.
Read more about this year's Kids Count Data Book and its findings here.