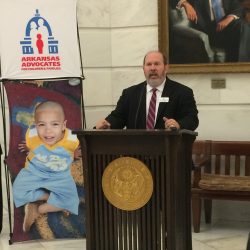 If you weren't able to make it to our Putting Kids First press conference on Oct. 5, we've got you covered. Below, AACF Executive Director Rich Huddleston explains what the upcoming election means for Arkansas's kids:
The November elections are critical to the future well-being of our children and families. Major decisions will be made over the next several years that could fundamentally change public policies and the ability of Arkansas children and families to thrive and succeed in the years ahead.
On October 5, Arkansas Advocates for Children and Families, the Arkansas Kids Count Coalition, and a number of our partners called on everyone, including voters, candidates, and yes, even the media, to put kids first and make them the top priority during this election season.
We made this call because children, and the issues most important to their future, have not been a priority during this campaign season. In many instances, the needs of children and the issues important to them are not being talked about at all. That is wrong, especially in a state that lags significantly behind other states in how our kids are doing. According to the National Kids Count Data Book, published annually by the Annie E. Casey Foundation, Arkansas has a child poverty rate of 1 in 4 children and we rank 44th in overall child well-being on indicators related to health, economic well-being, education, and family and community. We can and must do better.
If you have been watching and listening to the TV and radio political ads, the 24/7 media coverage, or even the speeches made by candidates, you know that too much time has been spent bashing political opponents and their personal characteristics, or discussing issues that are more important to well-funded special interest groups and political action committees. Too little time, if any, has been devoted to discussing the issues that are really important to the future well-being of our children, especially our most vulnerable children, in our state and nation.
For example, one analysis of the first 10 presidential debates this primary season found that just 1 of the 501 questions asked of either Republican or Democratic candidates was specific to children. Just 1 out of 501 questions! Debates have generally been no better in races here at home. I, for one, keep waiting for the media or a voter to ask a candidate at any level how he or she is going to reduce this state's and this nation's high rate of child poverty.
Most of us are not surprised by the failure to make kids a priority during the election season. Kids don't vote, they don't give campaign contributions, and they generally don't host political fundraisers for candidates or political parties.
Yet our children are the ones impacted by the lack of coverage they receive during the campaign season, the votes that we cast at the polls, and by the decisions made by elected officials after the elections are over.
As advocates for kids, it is up to all of us to make sure they have a voice. We must ensure the issues important to the well-being of children get heard – issues such as hunger, access to early childhood education and after-school and summer programs, public education, child health, juvenile justice, and child abuse and neglect, and the impact of tax cuts on the state budget for kids, just to name a few.
So during the final month of this campaign season it is up to all of us, including the media, to demand the candidates tell us what they are going to do about these issues.
And, as the voters get ready to head to the voting booths on November 8, we urge them to learn about the issues that are important to the future of our children, to educate themselves about where every candidate stands on those issues, and then vote accordingly.
After the elections are over, it will be up to all of us to hold our elected officials accountable for what they said during campaign season, and the actions they later take after they are elected, especially on what they do or don't do to improve public policy for children.