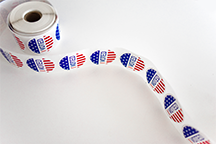 "Just because you do not take an interest in politics doesn't mean politics won't take an interest in you." -Pericles
Every morning Arkansans get up and go through their daily routine. Many do not give a second thought to the fact that much of their day is affected by what takes place in the capital city of Little Rock, every other year, between the months of January and April when the Arkansas Legislature meets for its general session. Our everyday lives and the moves we make are determined by the laws and rules set each legislative session, which are voted on by the lawmakers elected by everyday Arkansans.
You may or may not like the laws passed by the legislators representing you. The best thing you can do to have your voice heard is to VOTE!
The Arkansas 92nd General Assembly wrapped up their session back in May, and now many members are turning their attention to elections. In our new blog series, Running for Arkansas, we will feature each district and legislative candidate running to help you get to know your options for who will represent you in Little Rock.
The Arkansas Senate has five districts with primary races. If you're in Senate Districts 13, 21, 25, 26 or 27, you should be paying attention to the candidates vying for your vote! Not sure what Senate district you're in? Check out the map here. There are quite a few primary races in the Arkansas House of Representatives. Search the map here for your House district.
Stay tuned in the coming weeks for district information and candidate profiles!
---
The Arkansas Preferential Primary Election will be held on March 3, 2020. The deadline to register to vote in this election is February 3, 2020. Visit SOS.Arkansas.gov to register to vote, search for candidates, and learn about absentee voting, if needed. And visit VoterView.org to make sure you're registered, find where your polling place is located, and check the status of your absentee ballot.