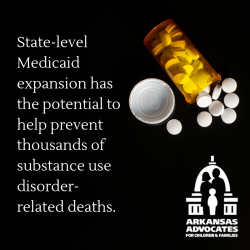 Drug misuse is an epidemic in the United States, and Medicaid has a considerable role in the solution.
We try to tell ourselves that it could never happen in our lives or pretend certain "types" of people misuse drugs – never people like us. This is not the case. Across the United States, the people who misuse drugs are almost as diverse as the drugs they are misusing. Often, we are told about people who misuse drugs like cocaine and methamphetamine, which are already illegal. Sometimes, we hear stories of people who come to depend on prescription opiates like hydrocodone or fentanyl to feel "normal." Both are types of drug misuse, but so is not following your doctor's instructions when you get a medicine. This might mean you take more because you think you need it, or you decide you are feeling better, so you save the rest of the prescription for another day. Any of these, by definition, are misuses of a drug and can lead to an individual becoming addicted and developing a substance use disorder (SUD). A substance use disorder is defined as recurring use of alcohol and/or drugs that causes significant clinical and functional impairment. Until recently, society has stigmatized substance use disorders, rather than what they are – medical conditions. It is important to remember that any of us could suffer from a substance use disorder, depending on the situation.
For two decades, society has ignored the risks associated with drug misuse, instead trying to fix the individuals who misuse drugs. During this time, the number of substance use disorders in the United States has risen at an almost uncontrollable rate. In 2018 alone, the United States spent $78 billion dollars treating the effects of substance use disorders – a reaction to the problem – while the number of individuals being diagnosed still rising. Until we destigmatize asking for help with these conditions and learning how to treat individuals for this health problem, the cost associated with substance use disorders will continue to rise. We must improve discussions and conduct more research to better understand how to prevent individuals from developing substance use disorders. Awareness has increased in the last couple of years, thanks to the willingness of patients, providers, lawmakers and community members to talk about dangers of drug misuse and how it can result in substance abuse disorders.
In April 2019, a study published in the Journal of the American Medical Association found that thousands of substance use disorder-related deaths might have been prevented depending on whether a state has expanded its Medicaid program under the Affordable Care Act. As Medicaid is the largest mental health and substance use treatment payer in the country–Medicaid expansion improves access to and enrollment in substance use disorder treatment programs.
Fortunately, Arkansas expanded its Medicaid program in 2013, through a program now known as Arkansas Works. This program allows adults making up to 138 percent of the Federal Poverty Level to qualify for Medicaid. With this increase, more Arkansans can receive treatment for substance use disorders. Advocates in Arkansas have worked to increase the number/accessibility of prevention and treatment programs in the state. Crisis stabilization units, for example, are designed to help identify and treat, rather than incarcerate, individuals suffering from substance use disorders. Advocacy has also worked to reduce the cost of treatments that exist and to enable more research to take place on the risk factors for developing a substance use disorder. Developing policies to help prevent substance use disorders will save money; more importantly, it will save lives.
Along with expanding Medicaid, other state-level approaches can help combat substance use disorders. All 75 counties in Arkansas have filed a lawsuit against the opioid industry. Opioids are a real problem in Arkansas, with the state ranking second nationally in number of opioids prescribed in each year since 2015. In fact, Arkansas has not had the number of opioid prescriptions drop below 100,000 prescriptions per 100,000 people (or one-to-one) since 2007. This means that providers in Arkansas have written more opioid prescriptions each year than people living in Arkansas for more than a decade.
With the United States facing record numbers of substance use disorders, it is encouraging that to see treatment options available. One treatment option is Medication Assisted Treatment, which combines behavioral therapy with medications to treat individuals that suffer from a substance use disorder. Only certain situations will allow for this treatment, so it is important to increase the accessibility of substance use disorder treatments around the country and improve how often Medication Assisted Treatment can be used. One of the most beneficial ways of doing this is protecting Medicaid expansion and holding accountable those responsible for the epidemic. Instead of distancing ourselves from this problem, it is imperative that we recognize that substance use disorders are a medical issue and can impact all of us. Once we begin treating them as an illness, we can begin to reverse these dangerous trends across the United States. It is vital we do, since across the country and more specifically, here in Arkansas, there are lives at stake.