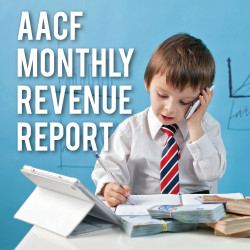 If you are hoping that recent tax cuts will generate new revenue to pay for more parks, quality public schools, and services for veterans and the elderly, don't hold your breath. The November report from the Department of Finance and Administration shows that revenue hasn't budged since last year. Revenue did, however, come in above forecast by 2.9% last month. That "surplus" is a backhanded compliment akin to being voted "most improved player". We came in above expectations only because we lowered our expectations. Tax cuts took the air out of any real revenue growth that we would have seen, and that threatens funds that pay the salaries of firefighters, pre-K teachers, and police officers.
Here are the numbers:
General revenue so far this year is not meaningfully different from last year (up by less than a tenth of one percent, or $0.9 million).
General revenue for the month of November is 4.2 percent or $16.5 million less than the same month last year.
We can thank decreased collections from personal income taxes (down $13.7 million, or 6 percent compared to last November) for the lackluster revenue growth last month.
We saw a similar story from the previous revenue report. (October was only 0.8% above last year).