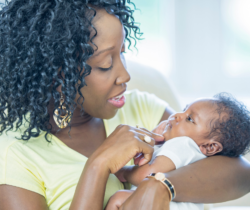 On August 9, 2022, Governor Asa Hutchinson announced that Arkansas will be expanding its Medicaid programs to include more coverage for new and expecting mothers. With the help of federal funding from the American Rescue Plan Act, Arkansas will be expanding benefits for mothers who receive limited pregnancy coverage to full coverage. This will allow mothers to receive care for behavioral health and non-pregnancy care throughout their pregnancy and up to 60 days postpartum. The goal is to create healthier pregnancies for both mothers and healthier births for the baby. These changes are expected to take place in January of 2023, and it's expected that more than 2,000 women in the state will become eligible for these additional supportive medical services each year.
Governor Hutchinson also revealed that the Department of Human Services (DHS) is also waiting for federal approval to extend home visitation services to high-risk pregnant women in traditional Medicaid and through the ARHOME Medicaid Expansion Program. It is expected that an additional 5,000 expectant mothers will be eligible for home-visiting services annually. Per DHS, evidence-based home visitation programs have been shown to improve maternal health outcomes, create better health outcomes for babies, and reduce the amount of deliveries requiring NICU services. Currently, there are 450 Home Visitors providing services throughout the state of Arkansas. From September 30, 2020 through September 30, 2021, Home Visiting Programs served 1,913 families statewide. DHS is projecting that these additional services will also begin in January of 2023 but it will be dependent on federal approval of this program being implemented within Medicaid.
It was also announced that the Arkansas Department of Health has implemented a Pregnancy and Parenting Resource Call Line. This resource line will be available statewide and will allow Arkansans to get helpful information for pregnancy resources in their area. Individuals can call 855-275-6667 (ARK MOMS) and they will be connected to someone who can assist them with any pregnancy and/or parenting related services within their community.
These are positive strides that the state is making to better address the maternal health crisis in the state and better support expectant mothers within lower income thresholds. This is extremely important since Arkansas' trigger law banning abortion has been implemented due to The U.S. Supreme Court's decision to overturn Roe v. Wade in June of 2022. The only way that mothers are able to undergo an abortion is if there is a medical emergency, if the mother's life is threatened.
Unfortunately, Arkansas ranks as one of the worst states in America for maternal health. This can be partially attributed to higher rates of poverty and large areas of rural territory with limited obstetric care. There are growing concerns that the already existent Maternal Mortality and Morbidity Crisis within the state of Arkansas will be exacerbated with the abortion-trigger law in effect. Black women and women of color will likely suffer greater consequences because they are already at a higher risk for pregnancy-related complications. Black women are three to four times more likely to die from a pregnancy-related death. It's also important to note that Black infants are twice as likely to die within their first year of life, compared to white infants. 
Dr. Gloria Richard- Davis informed, "As more people carry children, one of the most important things to do is to seek care as soon as possible. Because Black women are at a higher risk for pre-existing health conditions such as heart disease, diabetes, and high blood pressure, they face a higher risk of pregnancy complications. The risks do not end after delivery."
Unfortunately, receiving the appropriate level of prenatal care has proven to be difficult for some women of Arkansas who have applied for Medicaid services but have had delays in their applications being processed. This is due to the Medicaid application backlog that has been ongoing throughout the past year which has caused some mothers to wait several months- longer than allowed by federal law to receive necessary prenatal health care. This issue could be resolved if Arkansas adopts a presumptive eligibility policy for pregnant women in the Arkansas Medicaid Program. Presumptive eligibility would allow expectant mothers to be approved quickly based on their income level. Currently 29 states and the District of Columbia have adopted this policy. This policy will help ensure that mothers are able to address their overall health throughout all stages of their pregnancy, but more is needed to ensure that mothers receive the appropriate level of care after giving birth.
Arkansas extending postpartum coverage from 60 days to 12 months for Medicaid recipients will help to address the racial disparities in maternal and infant health outcomes. Most pregnancy-related deaths are preventable, and many are related to the loss of health coverage and difficulties with accessing care. Thankfully, a provision in the American Rescue Plan Act created a gateway for states to extend Medicaid-funded postpartum care to 12 months. This option is available for states to take advantage of for 5 years, starting in April, 2022.
In Arkansas, 2 out of 3 births in the state were funded by Medicaid in 2018, and in 2020, almost half of the births in the state (15,352) were to parents covered by Medicaid. With so many new mothers and infants being covered by Medicaid, and the recent laws impacting women's reproductive rights in the state, Arkansas must choose to fully protect mothers and babies through the adoption of presumptive eligibility and 12 months postpartum coverage. These additional changes, in addition to the one's the state has already agreed to implement (extending full pregnancy coverage to all mothers, home-visiting programs for high-risk pregnancies, and a pregnancy/parenting resource line), will help to build a more robust maternal health support system for mothers receiving Medicaid coverage. All of these changes working collaboratively will provide a better safeguard for families to not be impacted by the maternal mortality and morbidity crisis and the infant mortality crisis in the state. It's important for the state to protect our mothers and babies and provide them with the best possible chance to thrive and live healthy lives.