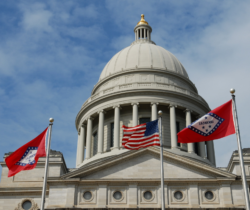 Friday's decision by the U.S. Supreme Court and the enactment of Arkansas's "trigger laws" banning abortion will profoundly change our state's economic and health equity landscape. Arkansas's health and human services systems will require significant new public investments to protect lives and health. The effect these changes will have on Black, Indigenous, and People of Color in Arkansas is of particular concern, as they already experience worse health outcomes than White Arkansans and will be more negatively impacted by this decision because of the historical and ongoing racism within our systems.
In a television interview over the weekend, Gov. Asa Hutchinson said that Arkansans are "going to work hard to make sure that mothers have the services they need." We agree that we must expand services for families in our state.
This should be a time that people of all political backgrounds can agree that the well-being of mothers and children should be the top priority in our public policy. Here are a few examples of the types of changes we can put in place to ensure that children have the resources they need to grow up healthy and that their families can achieve economic security:
Extend postpartum coverage for new mothers in Medicaid. Right now, women insured under pregnancy Medicaid lose their coverage 60 days after delivery. We should expand that to 12 months, as 34 states and the District of Columbia have done or in the process of implementing. Those states include Alabama, Georgia, Kentucky, Missouri, Tennessee, Texas and West Virginia. Almost half the births in Arkansas in 2020 – 15,352 – were to parents covered by Medicaid. This would help reduce huge racial disparities in infant and maternal outcomes; Black women in Arkansas are more than twice as likely as White women to experience a pregnancy-related death, and Black babies are almost twice as likely to die in the first year of life.
Provide presumptive Medicaid eligibility for pregnant women, meaning they can be approved for Medicaid coverage quickly based on their income level. Right now, mothers who are eligible for Medicaid are waiting months to get coverage – longer than allowed under federal law – even though it's abundantly clear that prenatal care is essential to both infant and maternal health. There's no defending that, especially when there's an easy fix for it. Twenty-nine states plus the District of Columbia already provide presumptive eligibility for pregnant women.
Allow children and babies in the lowest-income families to keep their ARKids First health insurance for a full year of continuous coverage, rather than kicking them off their insurance when their family incomes fluctuate month-to-month.
Invest state dollars to help close the gap in infant and toddler care. There is a real dearth of child care options for infants and young children in Arkansas, especially high-quality care. Even the highest income families have trouble finding high quality infant care, which means it's infinitely harder for low-income families to find the same level of care in the critical early years for children's brain development.
Change the state-level policies that unnecessarily make it more difficult for Arkansas families to obtain SNAP benefits and to get enrolled in the WIC program – the nutrition program for Women, infants and Children. We choose to make it harder than it is in other states, and there's no reason for that.
Require scientifically based sex education in schools, and make it easier for Arkansas teens to obtain long-acting contraception. Arkansas has the nation's highest teen birth rate, and has for a long time. Teaching abstinence hasn't lowered that ranking, and states that provide a science-based curriculum have seen huge improvements and fewer unwanted pregnancies.
Overhaul harsh policies in the state's cash assistance program, which is called Temporary Assistance for Needy Families, or TANF. We need to 1) eliminate the family cap now that parents have fewer family planning options and 2) increase the monthly benefit level, which is $203 for a family of three. That's one of the lowest benefit levels in the country.
Paid family leave. It's one important way that public policy can help promote healthy development so that children can grow into successful adults. Parental leave promotes bonding between parent and child, allowing mothers to breastfeed longer, and has even been linked to a reduction in infant mortality rates.
The Dobbs v. Jackson Women's Health Organization ruling, and our state law outlawing abortion with almost no exception, will almost certainly lead to increases in the Arkansas child poverty rate. It was already one of the highest in the nation. It will have profound implications for our child welfare system that is supposed to protect abused and neglect children, a system that already is at a breaking point due to the COVID-19 pandemic.
We agree that we need to work hard to get mothers and babies the services they need. Let's get started now.