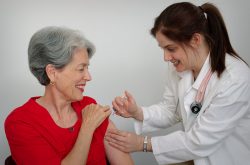 In 2017, Congress tried and failed more than once to repeal the Affordable Care Act and slash Medicaid. It failed every time because families across the nation rejected taking health care away from millions of Americans.
But the president's budget doubles down on that agenda. It embraces last year's "Cassidy-Graham" legislation, which as we discussed then, would take health care away from tens of thousands of Arkansans by ending Medicaid expansion (known as Arkansas Works) and eliminating the ACA tax credits that help keep coverage affordable.
The budget also slashes traditional Medicaid funding by changing the way we finance Medicaid to a model that caps costs per person – known as a "per capita cap." A per capita cap is a radical restructuring of how we finance Medicaid, which covers seniors, people with disabilities, and children. This model places a cap on the federal funding states receive per person, rather than basing it on the actual costs of their care. It forces states to fund 100 percent of any costs over this limit. This leaves state budgets vulnerable to unexpected public health crises, like the current flu epidemic.
Under Cassidy-Graham, beginning in 2026, these cuts would have translated into a decrease of more than $1 billion a year in federal funds to Arkansas. The president's budget makes cuts that are even steeper than those would have been. This drastic cost-shift to the states will strain state budgets and force deep and growing cuts to important public services.
Hundreds of thousands of Arkansans would lose coverage. Plus, the costs for those who are able to maintain coverage would likely go up. That's because the proposal would also allow states to waive consumer protections, like the rule against charging higher premiums to people with "pre-existing conditions." These would include pregnancy, mental illness, or diabetes, to name a few.
While the budget proposal recognizes the importance of addressing the opioid epidemic and mental health issues, the extra $13 billion it proposes to fund these efforts is inadequate compared to the l $1.4 trillion cuts to Medicaid. Medicaid covers nearly half of adults with opioid addiction, so these deep cuts would almost certainly worsen the crisis.
Arkansans deserves better. We hope our congressional delegation will listen to their constituents and reject harmful policies like this one that make further cuts to health care coverage.