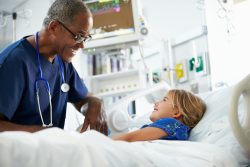 Recently, we shared our analysis of the latest ditch effort by some members of Congress to repeal the Affordable Care Act.  This week, Governor Hutchinson publicly shared that he joined a small group of Republican governors who gave input on this bill, and he supports it because it will not create a significant cost shift to the state and will give states greater flexibility.  We were disappointed by this announcement and will continue to advocate for the tens of thousands of Arkansans that stand to lose health coverage if this bill passes.
Early next week, the non-partisan Congressional Budget Office is expected to release a detailed analysis on the impact of the Cassidy-Graham bill.  However, an analysis from the consulting firm Avalere projects the bill would reduce federal funds to states by $215 billion dollars by 2026.  Similarly, a recent report from the Center on Budget and Policy Priorities shows that Arkansas would lose over $1 billion annually by 2026. Although states are promised greater flexibility to make decisions about which populations and benefits will be covered, this will happen with significantly less funding.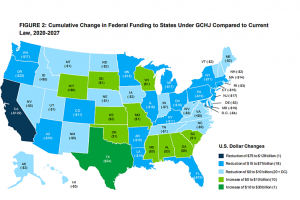 We have shared these concerns with the Arkansas Congressional delegation and Governor's Office as detailed below.
"This bill threatens the recent gains we've made in the health care system. Among our concerns are the specific impact that the Cassidy-Graham proposal would have in Arkansas:
It would essentially end Medicaid expansion – known as Arkansas Works – and eliminate the ACA tax credits by replacing funding with a time-limited block grant, causing hundreds of thousands of Arkansans to lose coverage and increasing premiums for everyone else.
It implements a new funding model for traditional Medicaid, a per-capita-cap model, that would create a gap between the federal funding the state receives and Arkansas's actual funding needs. This dangerous cost shift to the state will put children, seniors, and disabled individuals in Arkansas at great risk.
Federal funding to Arkansas alone would be cut by over $1 billion annually by 2026 compared to current projections. This would be particularly harmful in Arkansas because federal Medicaid dollars account for 64 percent of federal funds that come into the state.
After 2026, block grants to the state that replace Medicaid expansion would end, as would tax credits for buying insurance on the private market. This would create an even bigger hole in the budget and no clear alternative for Arkansans who need health coverage. The combined impact of the elimination of the block grant and the Medicaid per capita cap would be $4 billion in 2027 alone.
For the Arkansans who do not lose coverage altogether, the costs of their care may increase significantly. That's because states would be allowed to waive certain consumer protections, like the ACA's prohibition on charging higher premiums to people with pre-existing conditions.
There is a better path forward—a bipartisan plan to stabilize the insurance marketplace. The Cassidy-Graham repeal plan would only turn back the clock and go back to the same concerning approach to reforming the health care system that has proven to be unsuccessful and created even more uncertainty for the families that need health care coverage.
At Arkansas Advocates, we believe our state serves as a model to the nation for using the current flexibility in the Medicaid program and insurance market to design an innovative health care system with cost-saving efficiencies. We accomplished this by creating bipartisan solutions."
We are hopeful that members of Congress will listen.  Again, we call on our leaders to oppose anything less than a bipartisan solution that keeps families covered and helps to reduce costs.  Anything less is unacceptable.