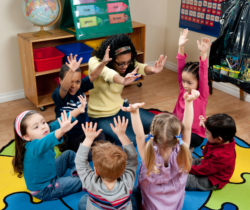 In January 2022, Vanderbilt University released takeaways from its ongoing study of Tennessee's Voluntary Pre-K Program. The study followed students who participated in the state-run program in the 2009-10 and 2010-11 school years through completion of the sixth grade. Among the takeaways were that students who participated in the program fell behind their peers in several areas including academic achievement.
However, the study does not adequately address the impact of program quality, and there are a number of reasons to avoid applying the conclusions of Vanderbilt's study to Arkansas's early childhood education system.
High-quality Pre-K is the most important factor for academic success
Study upon study over the past two decades found that overall quality of a Pre-K program, as measured by the National Institute for Early Education Research (NIEER's) "Benchmarks for High-Quality Pre-K," is the crucial determinant of student success.
The 10 Benchmarks for High-Quality Pre-K are
Early Learning & Development Standards
Teachers with bachelor's Degrees
Teachers with Specialized Training in Pre-K
Assistant Teachers with a Child Development Associate (CDA) Certificate or Equivalent
Professional Development & Coaching for Staff
Class Sizes of No More 20 Students
A Staff-to-Child Ratio of 1:10 or Better
Vision, Hearing, & Health Screenings & Referrals
Curriculum Supports
A Continuous Quality Improvement System
Arkansas practitioners and policymakers should avoid drawing conclusions about the Vanderbilt study
The State of Tennessee has acknowledged that its Voluntary Pre-K Program did not place adequate emphasis on quality at inception. In the years since its program began, Tennessee has taken several steps to emphasize and improve quality in Pre-K, including awarding funding based on quality and partnering with external evaluators to observe and measure program quality. As a result, Pre-K programs in Tennessee, much like every other state, have evolved by leaps and bounds since the time period measured by this study.
There are non-academic explanations that have been put forward for declines in achievement that are sometimes evident in students who participated in Pre-K as those students progress, including – (1) insufficient coordination between Pre-K and early elementary (2) need to focus resources in K-3 on students who did not receive Pre-K and started out behind their peers who participated in a Pre-K program (3) decreased parent/family involvement in early elementary (4) lack of funding for student resources
Comparing Tennessee's Voluntary Pre-K Program to programs like the Arkansas Better Chance (ABC) Program, Head Start, or other Better Beginnings accredited preschool programs in Arkansas is a bit of an apples-to-oranges comparison, as Arkansas Pre-K has been aligned with NIEER Benchmarks from inception.
Arkansas must better invest in pre-k
The future of Arkansas's well-being depends upon the education of our state's children. We need every child in Arkansas to have access to a world-class education.
Since the development of the Arkansas Better Chance Pre-K program in 1991, Arkansas has made early childhood education a priority. Arkansas's Pre-K has required and maintained high quality standards over the past three decades — bolstered by external evaluators using an internationally accepted tool for measuring indicators of quality — and its programs have been supported through excellent educator preparation and opportunities for parent/family involvement, providing many children with a solid foundation that they would not have had otherwise.
However, state investment in Pre-K has been stagnant for several years, which threatens program quality. If we want to keep pace with states like Georgia, while avoiding the type of results suggested by the Tennessee study, we must continue to invest in our Pre-K programs and educators.