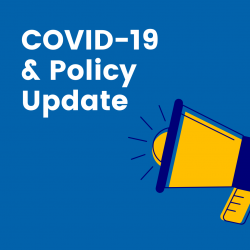 June 26, 2020
State Updates
Arkansas Hate Crime Bill
Governor Hutchinson said he would support and sign a hate crime bill passed through the legislature, if the measure were along the lines of what he has supported in the past. Arkansas is one of only four states that does not have hate crime legislation, according to the governor. He applauded legislators for working on the legislation. This week Sen. Jim Hendren and Rep. Nicole Clowney drafted a hate crime bill in advance of next year's session. The proposal would strengthen sentencing for certain offenses committed if the defendant purposely selected the victim based on certain attributes, including race, ancestry, color, current or former service in the U.S. Armed Forces, disability, ethnicity, gender, gender identity, homelessness, national origin, religion or sexual orientation.
Hospital capacity
Troy Wells, CEO of Baptist Health, said at the Governor's press conference on Monday that the capacity of critical care beds at hospitals has always been a problem, even before the pandemic. Earlier in the press conference, the Governor reported that total hospital bed capacity in the state was at 71.4 percent occupancy, and ICU bed capacity was 77.7 percent occupancy. However, only 34.8 percent of the state's ventilators are being used. Wells said the current occupancy is not really due to COVID-19, though some locations like Northwest Arkansas are seeing more hospitalized patients with the virus and are more constrained. Dr. Nate Smith with the Department of Health said that within individual hospitals, the number of patients hospitalized in the ICU with COVID-19 range from 5-17 people. Hospitals do have long-term emergency plans to increase bed capacity. And in the short term, UAMS has talked with hospitals in Northwest Arkansas to see how they might assist, including possibly accepting patient transfers. Read more here.
Tracing, testing, and cases
Arkansas now has 18,740 known cases of COVID-19. Of those, 5,707 are active. There are currently 284 Arkansans who are hospitalized because of COVID-19, 63 on ventilators, and 249 Arkansans have died as a result of the virus. Friday saw a new single-day record of community cases: 669.
The Governor has directed the Department of Health to double the number of new contact tracers the department had planned on hiring — from 350 to 700. It will cost the state an additional $22 million, and the Governor will present the request to the General Assembly's CARES Act Steering Committee. The Governor hopes the first set of 350 contact tracers will start by mid-July and hopes that the additional 700 tracers will be sufficient to meet the demand of cases. Currently the state has 200 contact tracers, which the Governor said is insufficient. On Wednesday, Governor Hutchinson announced the state's July testing goal — 180,000 tests, which accounts for 6 percent of Arkansas's population. He said our ability to meet that goal will be based on demand and resources.
To help meet the goal, the Department of Health will be hosting three surge testing events in Washington and Benton counties:
1) Today (Friday, June 26), 4pm-8pm – Bentonville, NWACC, 1 College Dr.
2) Tuesday, June 30, 7am-11am – Fayetteville, Washington County Local Health Unit, 3270 Wimberly Ln.
3) Saturday, July 11, 7am-11am – Fayetteville, Washington County Local Health Unit, 3270 Wimberly Ln.
COVID cases in poultry plants
Multiple reporters asked the Governor this week whether Tyson Foods plants should stay open given the number of positive COVID-19 tests in the company's poultry facilities. Tyson conducted widespread testing in its plants and publicly released the results, revealing a large number of positive cases in workers who were asymptomatic. Governor Hutchinson said the plants should remain open, because they are a vital part of the food chain across the nation. He said Tyson has gone to extraordinary lengths to do testing and tracing above public health requirements and worked with the Department of Health.
On Friday, Dr. Smith said poultry plants in Northwest Arkansas and throughout the state have been an area of concern. "This is a situation we take very, very seriously," he said. He said there's been a plateau in the number of positive cases in those settings. "We've worked very closely with those businesses to try and identify ways to interrupt transmission, make those places safer, and I think we're largely succeeding." He added that in addition to the work the state and the companies are doing, the Centers for Disease Control has been working on recommendations to interrupt transmission in the plants.
Mail-in absentee voting
On Thursday, Arkansas Secretary of State John Thurston issued a statement indicating that any Arkansas voter who feels unsafe or afraid of contracting COVID-19 while voting in person can request an absentee ballot. You can find directions for how to request an absentee ballot, along with important deadlines, on the Secretary of State's website. An absentee ballot would allow you to vote by mail.
Thurston's statement doesn't indicate that "no-excuse" absentee voting is allowed, but rather that he believes fear of contracting the virus is an acceptable excuse. During his press conference on Friday, Governor Hutchinson said that Thurston's statement seems to settle the issue, though he wants to have further conversations about it. Earlier in the week, he said he would make a decision about absentee voting before August 1, which he believes will give enough time to make any needed adjustments before the November election. He said he's working with the Secretary of State, the state's Board of Election Commissioners, and counties to get their thoughts and concerns about the issue.
Meanwhile, a lawsuit in Pulaski County Circuit Court seeks to have the state require "no-excuse" absentee voting in the November general election.
School reopenings
Schools will have some flexibility under the state's Arkansas Ready for Learning program. The Governor stated he wants schools to reopen this fall with on-site instruction paired with virtual learning for cases where children or parents might have compromised immune systems. But individual schools could, for example, decide to close for a period of time if there was an outbreak at the school. Through local committees, superintendents are also doing surveys of parents and can make any adjustments that are needed. Learn more at the Arkansas Department of Education's Arkansas Ready to Learn website.
Some school districts, including the Little Rock School District, are requesting parents indicate by early July their intention to either send their children to school in person or to participate in district-provided digital learning from home when the 2020/2021 school year begins. Little information has been provided to parents with regard to social distancing and enhanced hygiene protocol, details on the digital platform selected, or conditions under which schools may close again.
The Arkansas State Board of Education is set to vote on a package of waivers to deal with potential costs and changes to schools as related to COVID-19 on Monday June 29, 2020.
Case predictions
The Governor talked again this week about the UAMS COVID-19 predictive model. Using a statistical average (mean) number of cases based on different scenarios, the model predicts Arkansas will reach 133,056 positive cases this September. In a worse-case scenario, cases could rise to 251,834 people. With those rates of infection, the number of ICU beds needed could range from 698 beds for the mean scenario to 1,888 beds in the worst case scenario. And the model predicts that the state would need 698 ventilators in the mean scenario and 1,322 in the worst case scenario. The governor said those numbers are manageable, though the state would need to do some acquisitions and shifting of resources. He reported that Arkansas is on the current trajectory of the statistical models that predict a peak in September/October. He said he wants to change our trajectory. To do that, the state must do massive amounts of testing, contact tracing, and isolation, thereby interrupting strains of transmission. Individual Arkansans must practice discipline and social distance. He said hospitals in the state have a partnership to share resources if there is a surge in certain parts of the state. The Governor said the state continues to acquire more ventilators and have more on order.
Masking
During a meeting of the Arkansas Senate and House Public Health, Welfare and Labor Committees on Monday, the state epidemiologist and UAMS chancellor presented research showing the benefits of mask mandates. On Thursday, Little Rock Mayor Frank Scott signed an Executive Order requiring face coverings in public spaces with state commerce exemptions. You can read the order here. At his Friday press conference, Governor Hutchinson said the mayor's proclamation is an encouragement of mask-wearing and that it yields to state guidance. The Governor continues to urge the public to wear masks when 6 feet of social distance cannot be maintained, but he has not issued a statewide mandate.
Arkansas Kids Count
In case you missed it, on Monday AACF helped release the 31st annual Kids Count(R) Data Book, the most comprehensive annual report on child well-being in the United States. Alarmingly, Arkansas dropped 10 spots in the Economic Well-Being domain, from 36th in the nation to 46th. More than 15,000 of Arkansas's children fell into poverty between 2017 and 2018. Stay tuned for a data report from the Annie E. Casey Foundation in December, focusing on the impact of the coronavirus pandemic and resulting economic crisis.
Federal Updates
Affordable Care Act at U.S. Supreme Court
Despite the COVID-19 pandemic and resulting major recession, the Trump Administration and 18 state attorneys general, including Arkansas Attorney General Leslie Rutledge, filed briefs late Thursday asking the Supreme Court to strike down the entire Affordable Care Act (ACA). If the lawsuit succeeds, at least 299,000 Arkansans – likely many more – would lose health coverage. Read more here on our blog.
Unemployment
Initial unemployment claims fell slightly to 1.48 million last week, the 12th straight week of decline. However, the majority of the decline in jobless claims occurred in May, with the numbers leveling off in June. Many economists attribute that to the rise in COVID cases and expect the economic recovery to be tepid until the virus is under control. Read the story here.
Public school coronavirus relief funding to be shared with private schools
The Trump administration has ordered public schools to share coronavirus relief funding with private schools at a higher rate than they would normally share federal funding. Usually federal funding is based on the number of low-income kids, but for this it's based on the total number of private school kids in the district.
2020 Census
Just a 1 percent undercount of Arkansans in the census could cause the state to lose nearly $1 billion in federal funds over the next decade for things like education, health care, and infrastructure. Only 56.4 percent of households in Arkansas have completed the census. You can complete the census at 2020census.gov, or you can complete the census by phone in English at 844-330-2020 or multiple other languages. Find out where your community stands with its response rate.
What to watch
Nickelodeon is hosting a special on Kids, Race and Unity on Monday, June 29, at 6 PM Central Time. The Nick News Special will feature Alicia Keys, leaders of the Black Lives Matter movement, teen activists fighting racial injustice, and the voices and experiences of Black children around the United States.
Sesame Workshop recently held a town hall on racism for kids and families. You can access the town hall here.
Resources
Pandemic EBT: The Arkansas Department of Human Services will issue Pandemic EBT (P-EBT) nutrition benefits to families of students who lost access to free or reduced-price school meals during school closings. Eligible students (those who received free or reduced priced meals before schools were closed on March 13, 2020) and families will receive food benefits on a new or existing SNAP Electronic Benefit Transfer (EBT) card to help replace the cost of the school meals. This will be a one-time payment of $319 per eligible child issued by early July 2020 (state estimate). If the family has never been on SNAP or it has been longer than six months, they will get a new EBT card in the name of the eligible child mailed to their address on file* with their school district. Information for families in English and in Spanish.
Arkansas United COVID-19 Page in Spanish: Para información sobre COVID-19 en Español
Marshallese Education Initiative COVID-19 Page in Marshallese: Ñan melele ko ikijeen COVID-19 ilo kajin Majõl
Marshallese Call-In Line: UAMS Northwest has a dedicated call-in center for people who speak Marshallese and suspect they need a COVID-19 test. Calls will be answered from 9 a.m. to 5 p.m., Monday through Friday. The number is (479) 713-8708. UAMS has also established an interpretation line for health care providers to use if they need help serving Marshallese patients. It's available 24 hours a day. For more information about that resource (for health providers only), contact Stacia Dean at SNDean (at) uams.edu or Betsy O'Connor at GEOconnor (at) uams.edu.
Applying for Assistance Programs: Legal Aid of Arkansas created a fact sheet breaking down how to apply for Medicaid, SNAP food assistance, and unemployment benefits. A Spanish version is here. Legal Aid has also created a comprehensive guide, which is available here in Spanish.
Receiving Stimulus Payments: Arkansas Advocates created a fact sheet on how to receive the federal Economic Impact Payment from the CARES Act.
Applying for Health Care Coverage After Losing a Job: People who have lost their workplace health care coverage in the last 60 days due to the pandemic may be eligible for a marketplace qualifying health plan. You can determine your options with the Arkansas Insurance Department at 1-844-355-3262 or www.myarinsurance.com.
Guidance for those with Underlying Health Conditions: The CDC has produced these guidelines for those with underlying health conditions during the COVID-19 crisis.
Arkansas 211: 211 is a free, statewide telephone service that connects individuals in need to important community services in the state of Arkansas like food pantries, health programs, crisis intervention, shelters, and more. Just call "211."
Applying for Unemployment Insurance: There is a new option to apply for unemployment insurance online or by phone. You can apply here.
Self-Employed Workers Unemployment Assistance: Gig and self-employed workers can now apply for Pandemic Unemployment Assistance here.
Applying for Medicaid, ARKids First (children's health insurance), or SNAP (formerly known as food stamps): The Department of Human Services has made changes encouraging the public to avoid in-person visits to DHS county offices and is allowing fewer people in the lobbies at the same time, increasing wait times. People are encouraged to apply online at www.Access.Arkansas.gov or to use the phone application option by calling 1-855-372-1084. County offices will be installing drop-off boxes for paper applications. And required SNAP interviews may be conducted by phone rather than in person.
WIC (nutrition assistance program for Women, Infants and Children): Contact your county Department of Health office for information on how to apply.
Department of Health Updates: You can get the latest COVID-19 updates from the Department of Health here.
Finding a food pantry: Some pantries may be closed, so call ahead to confirm.
Food Bank of Northeast Arkansas food pantry network
Harvest Regional Food Bank (Texarkana)
Food Bank of North Central Arkansas