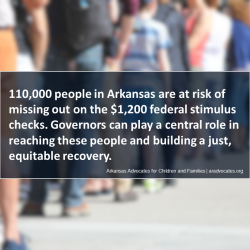 State governments can help with aggressive outreach
About 12 million Americans — including 110,000 in Arkansas alone — risk missing out on the stimulus payments provided through the recent CARES Act if they don't file a form to receive it, according to a new report from the Center on Budget and Policy Priorities (CBPP).
The CARES Act payments are a key tool to help families cope with the loss of jobs and income in the pandemic and stimulate Arkansas's economy. Arkansas's leaders must work to ensure thousands of Arkansans don't miss out on this relief for their families and our community.
Reaching and enrolling the 110,000 Arkansans who are eligible for this payment is an important step in building an anti-racist, equitable, and inclusive economic recovery that extends to all people. Facing structural barriers like wealth and income disparities, inadequate access to health care, and racial discrimination built into the health system, communities of color and people who are experiencing poverty are being hit the hardest by the COVID-19 public health emergency and recession.
The payments are considerable, both for the recipients and by other standards of assistance. The IRS, working with the Social Security Administration and the Department of Veterans Affairs, has been automatically delivering these payments to tens of millions of people who regularly file federal income taxes or receive certain federally administered benefits. But the automatic payment method misses about 12 million people nationally — including people of color, children whose parents are paid low wages, people without secure housing, and others — because they aren't required to file federal income tax returns due to their low incomes and they do not participate in one of those specified, federally administered programs.
The outstanding payments amount to roughly $101 million for Arkansans, which — if delivered and spent — would help people who are struggling to make ends meet and give state and local economies a much-needed boost.
Governors and other state leaders can play a central role in reaching these individuals, roughly 3 in 4 of whom participate in SNAP (formerly food stamps) or Medicaid, which states and counties administer. States and localities will also need to reach out to people eligible for payments who may be outside the reach of SNAP and Medicaid. This can include people who are experiencing job or earnings loss, housing insecurity, or homelessness.
State officials are already in touch with most of these people through existing programs like SNAP and Medicaid. Arkansas needs an aggressive outreach program to inform eligible individuals and help them complete the required steps. This will benefit families in need and our community as a whole. Payments to very low-income people are among the most effective ways to stimulate the economy during a recession.
State outreach now to connect eligible low-income individuals with the tax system will pay dividends if federal policymakers issue additional stimulus payments to boost consumer demand and reduce hardship.
Governor Hutchinson should spearhead an aggressive outreach program to ensure low-income Arkansans can access this aid at a critical time and provide crucial stimulus to the lagging state economy.
To learn more, please visit the CBPP website.