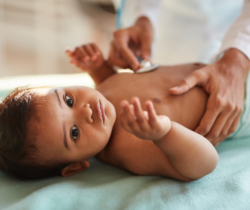 More than 54,000 Arkansas children have lost their health insurance in just two months – an outcome of our state's unnecessarily speedy Medicaid eligibility redetermination process. That's an alarming 7% of the state's overall child population, which should be enough to make the state change course.
Yesterday, we learned that in May, for the second consecutive month, more than 25,000 of Arkansas's children lost Medicaid coverage. That means children are losing access to prescription drug coverage, preventive care, immunizations, mental health services and important screenings at a time that is critical to their healthy development.
As the report released by Arkansas Department of Human Services on June 8 shows, many families are losing coverage even though they are still eligible. The state closed more than 44,000 cases without verifying income or other eligibility criteria. The total of all cases closed in May came to 68,838. Of the categories identified in the closures, more than 20,000 children in ARKids A — those living in families with the lowest household incomes — lost coverage.
Since April 1, nearly 55,000 of our children have lost coverage, including more than 7,200 in the newborn category.
The state is rushing this process because Arkansas legislators decided to force the Arkansas Medicaid program to complete the renewals in six months. Most state Medicaid programs are using the 12 months allowed by the federal government to avoid unnecessary terminations. We should not be in such a hurry that we continue to deny eligible Arkansans necessary health coverage. This is not a race.
Along with more than 20 national healthcare organizations, we sounded the alarm last month concerning the number of Arkansans losing coverage. We repeat our call for Governor Sarah Sanders to take steps to slow down the process to get this right, including pausing procedural disenrollments.
Under no circumstance should this many people be losing necessary coverage without a true redetermination of eligibility. In just two months, almost 100,000 people out of the 140,000 total have lost healthcare coverage for procedural reasons, meaning the state did not have enough information to determine eligibility.
We can't afford to increase the number of uninsured in Arkansas. Taxpayers will pay a higher price for healthcare if more people lose coverage. These numbers are a warning sign, and if the state continues to rush through the process, we will see a greater burden on hospitals, providers, and taxpayers to foot the bill.
Healthcare coverage for children leads to better adult health, education, and financial outcomes. Ensuring eligible children maintain their coverage should be a priority for all of us.