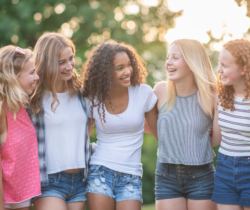 Arkansas continues to come in dead last in the 2022 KIDS COUNT Data Book's ranking of the teen birth rate.
In the 2022 KIDS COUNT® Data Book, a 50-state report of recent household data developed by the Annie E. Casey Foundation released earlier this month, Arkansas was tied with Mississippi at 49th, with 28 births per 1,000 females ages 15-19. Though we've seen the rate drop over time, we've had the nation's highest teen birth rate every year since 2013.
You'd think that after a decade of coming in last, we'd take a more aggressive approach to reducing the numbers. But we haven't, and it's past time to start now. Especially in light of our state's recent implementation of a law banning almost all abortions, it's time we got serious about helping teenagers prevent unwanted pregnancies.
The state with the best ranking, Massachusetts, has one-quarter the rate of teen births of Arkansas, at only 7 per 1,000. They also fare much better in other indicators as well. In fact, they're ranked No. 1 this year in overall child well-being. We're 43rd.
Both in Arkansas and nationally, teen birth rates are higher for families who are Black, Indigenous, or Other People of Color – a result of historic policy discrimination and systemic racism. Nationally, the rates are about 2.5 times higher for Black and Hispanic or Latino teens than for White, non-Hispanic teens. These disparities have persisted even as teen birth rates have been reduced nationally and at the state level.
For some measures of well-being, it's tough to pinpoint exactly what to do to improve our state's rankings and make life better for Arkansas families. But not for teen births. States that have the best rankings uniformly provide school students with comprehensive, scientifically based sex education in the classroom as well as access to the most effective contraception. For the most part, Arkansas teenagers don't have enough access to either of those, even though it's proven to save the state money. Unwanted pregnancies are much more expensive for the state, not only in the long run but in the short run as well (from medical care to nutrition programs for mothers and babies, infant care and more).
Most Arkansans who deliver a baby before age 20 report that their pregnancies were unintended. Only 22 percent report that they intended to get pregnant. So why aren't we doing more to help the other 78 percent prevent unwanted pregnancies? The reason is that many Arkansas decision makers still believe that if we only tell teenagers to avoid sex (abstinence-only education), they won't have sex. This isn't reality.
Don't get us wrong: It's good advice to tell teenagers to delay sex until they're older, for a variety of reasons. But it's living in a state of denial to believe that advice alone will work.
Arkansas public schools are not required to teach sex education beyond HIV information. If schools decide to teach sex education, the coursework must use abstinence-focused preventative programs. Current curriculum is not held to any standard to ensure that the information provided is medically sound, age-appropriate, culturally appropriate, or unbiased.
Senate Bill 655 of 2021, sponsored by Sen. Greg Leding and Rep. Megan Godfrey, would have helped ensure that all students have access to curriculum like that. It failed to pass.
For more information about the Data Book, click here. And watch for a more comprehensive look at teen births in Arkansas, and the policy solutions we recommend, in the coming weeks.