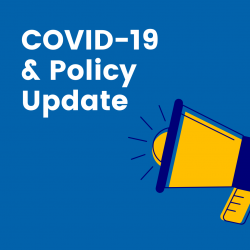 August 21, 2020
Reopening schools, constitutional amendment proposals and pandemic unemployment payments are among the issues in this edition of your Arkansas Advocates' policy update. It will arrive in your inbox every other Friday.
AACF calls for a pause in reopening schools
In a statement released today, Arkansas Advocates called on state officials to wait until mid-September to open schools in a way that can prioritize the safety of students and school personnel and mitigate the equity impacts for at-risk students. We are also calling for flexibility to allow individual districts to use local community data in deciding when it's safe to re-open. "The well-being of our children and our teachers, especially those most at risk of bearing a disproportionate share of the impact of COVID-19, have to be our top priority," the statement reads. You can read the full statement here.
High-risk districts identified as in-person instruction begins
School districts can follow many of the active cases within their district boundaries with a new tool on the COVID-19 page of the Arkansas Center for Health Improvement. ACHI is tracking districts with more than 10 new active cases per 10,000 residents over the previous two weeks. The numbers don't necessarily reflect cases within the school community but rather identify certain cases within the geographical boundary of the district. The data go back several weeks and show whether the community in which a district is located is moving toward what the state deems to be lower risk (green) or higher risk (red).
Gov. Asa Hutchinson and Education Secretary Johnny Key said school districts in the red zone are still required to start in-person instruction next week. The state and districts will use "refined guidance" based on this local data to make decisions after the school year begins. Those school districts labeled higher risk right now are: Batesville, Blytheville, Booneville, Centerpoint, Cutter Morning Star, De Queen, Dermott, Dover, Hamburg, Hazen, Hector, Lakeside in Chicot County, Magazine, Marked Tree, Monticello, Rivercrest, West Memphis, Warren and Trumann. The data and district identifications will be updated every week.
Redistricting and open-primary proposals certified (provisionally)
Secretary of State John Thurston has provisionally certified for inclusion on the ballot the independent redistricting commission and rank-choice voting proposals. But legal hurdles remain before voters would be allowed to determine whether those proposed amendments should be added to the Arkansas Constitution. Arkansas Voters First wants to create an independent redistricting commission aimed at ending gerrymandering in drawing political boundaries, and Open Primaries Arkansas wants to create a new ranked-choice election system that would allow voters to identify their top candidates in order of preference, regardless of party affiliation. Thurston has asserted that neither of the initiatives' petitions had enough signatures to move on to the next step in the process, but he certified them provisionally while awaiting an Arkansas Supreme Court ruling on several questions regarding the petitions.
Arkansas Public Policy Panel and Citizens First Congress released a report this week on redistricting and gerrymandering in our state. You can read it here.
Arkansas to issue unemployment supplemental payments
Workers continued to lose jobs in recent weeks, as businesses struggle to recover in a pandemic-weakened economy. Congress and the White House failed to come to agreement on another round of relief legislation, and the $600-a-week pandemic unemployment supplemental payments ended. President Trump issued an executive order to have states issue $300-a-week supplemental payments with funding administered by the Federal Emergency Management Agency. State Commerce Secretary Mike Preston said this week that with legislative approval, Arkansas should begin issuing those payments to about 100,000 Arkansans shortly after Labor Day.
Arkansas hate crimes bill
Governor Hutchinson and Attorney General Leslie Rutledge joined a bipartisan group of lawmakers on Wednesday to support proposed legislation aimed at increasing penalties for offenses defined as hate crimes. Under the draft bill, those are offenses in which the defendant purposely selected the victim(s) based on race, ancestry, color, current or former service in the U.S. Armed Forces, disability, ethnicity, gender identity, homelessness, national origin, religion, or sexual orientation. The change would be considered during the 2021 legislative session. Lawmakers have tried and failed before to pass such legislation, and Arkansas is now one of only three states without such a law in place. You can read AACF's statement on the issue here.
Arkansas census update
Our state remains behind the nation in responding to the U.S. Census. About 59 percent of households have responded here, compared to about 64 percent nationally. Some of our state's more rural counties have some of the lowest response rates in the nation. Help us spread the word that the deadline for census participation is September 30. Households can still self-respond by filling out the Census at mycensus2020 or by calling 844-330-2020. Census "enumerators" have begun going door-to-door, as well.
Our partners at Arkansas Counts have numerous resources to help, including a back-to-school kit to help ensure that all children are counted.
Partnership to increase immunization rates
The state's CARES Act Steering Committee recommended funding of a proposal put forward by the Arkansas Department of Human Services, in collaboration with the American Academy of Pediatrics, that will help ensure more children in Arkansas receive their vaccinations before October 1. Compared to last year, almost 60,000 fewer children have gone to their pediatrician to receive vaccinations to this point. The funding in this proposal would allow for pediatricians to conduct more outreach and set up additional vaccination sites.
Increase in cases seen in children
In the last two weeks of July, nearly 100,000 children in the United States tested positive for COVID-19. And a new report also shows that children can get severely ill from the virus, especially Hispanic and Black children. Meanwhile, a report from the Urban League found that African Americans and Latinos are more than three times as likely to contract the coronavirus as whites, and African Americans are nearly twice as likely to die.
Fayetteville declares racism a public health emergency
On Tuesday, the Fayetteville City Council unanimously adopted a resolution declaring racism to be a public health emergency. The resolution proposed by the Mayor's African American Advisory Council contains 16 policy recommendations on how the city can better address systematic racism. It included studies that demonstrated that systematic racism can lead to poorer health outcomes for Black populations.
Immigrant health policy forum
Meanwhile, Arkansas Coalition of Marshallese and Arkansas United will join Arkansas Advocates on Tuesday from 2:30-3:45 p.m. as we discuss equity in health policy and the challenges faced by immigrant families in Arkansas. You're welcome to join us for this virtual discussion. More information is at this link.
More upcoming virtual events
AR Kids Count Coalition, Southwest Arkansas Policy Discussion
Tuesday, September 1 from 6:00pm-7:00pm
Learn more and register
Health Care Policy Basics
Tuesday, September 8 from 6:00pm-7:00pm
Learn more and register
AR Kids Count Coalition, Delta Arkansas Policy Discussion
Tuesday, September 15 from 6:00pm-7:00pm
Learn more and register
AR Kids Count Coalition, Children's Policy Summit
Tuesday, November 17 to Thursday, November 19th
Learn more and register
Resources