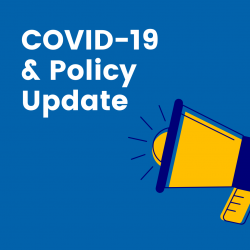 September 4, 2020
With Labor Day weekend upon us, state officials say they're concerned about social gatherings resulting in a spike in coronavirus cases in the Natural State. We hope you and your family stay safe and healthy this holiday weekend. 
School and college campus cases increasing
Arkansas COVID-19 cases are on the rise again, with a spike in positive cases among 18-24-year-olds in and around college campuses. As of Thursday, the state had seen 63,081 cases, with a larger-than-usual increase of 969 cases in one day. The Arkansas Department of Health has begun posting reports for cases in "Educational Institutions" including school districts and universities. The Arkansas Center for Health Improvement has also created a school district map to report cases.
A White House report indicated that Arkansas has one of the highest positivity rates in the country. Dr. Anthony Fauci named Arkansas as one of a few states that are at risk for a virus surge because of that. Governor Hutchinson said he agrees with Fauci. "This is a very critical time," Hutchinson said Thursday, adding that activities this weekend will determine where the infection rate goes from here. "I'm glad he sounded that warning. We're seconding that warning today."
Legislators sue the state over health emergency measures
Eighteen Republican lawmakers sued Dr. Jose Romero, Secretary of the Arkansas Department of Health, on Thursday, claiming that emergency measures taken during the pandemic should have required legislative approval. The lawsuit, which you can read here, seeks to have a judge declare invalid government directives such as a face-mask requirement and guidelines about restaurant capacity, for example. Governor Hutchinson said Thursday that his administration clearly has authority to take such actions during a public health emergency. If the Legislature wants to end the emergency, then it would end protections for businesses from certain liability claims and directives establishing telemedicine and virtual school options, he asserted. 
USDA summer meal program extended until the end of December 
Governor Hutchinson announced this week that Arkansas will take part in an extension of a federal pandemic-response measure that allows Arkansas public school students to receive free school meals through the end of December. Even those who may not qualify for free meals will still be able to receive them through the program that will reimburse the state's expenses. After backlash nationally, the Trump administration agreed to continue the meal program, which had been set to expire. Arkansas Education Secretary Johnny Key said districts will have the flexibility to serve free meals to all students and allow parents to pick up meals for children who are participating in virtual school. It's the same U.S. Department of Agriculture waiver program that allowed schools to provide meals to all students when on-site instruction initially closed in March.
Don't Wait, Vaccinate!
The Arkansas Department of Human Services has kicked-off their Don't Wait, Vaccinate! campaign to increase the number of childhood vaccinations in the state. As part of the announcement, the Department reported "Arkansas children from birth to age 18 received 75,310 fewer vaccinations between January and the end of July 2020 than they did between January and the end of July 2019." They encourage families to get their children vaccinated and said precautions are being taken at doctors' offices to prevent the spread of COVID-19.
New videos raise awareness about ARKids First
Arkansas Advocates has produced a video to encourage parents whose children may qualify for ARKids First to learn more about the program and enroll. Visit our YouTube channel to find the video in English and in Spanish and share with your networks.
Getting Arkansas's eligible children enrolled in ARKids First is critical for the health and overall well being of our state's kids. More than 15,000 children in Arkansas who were likely eligible for ARKids First went without health insurance in 2018. That's more than the population of Hot Springs Village.
CDC rule prevents evictions in the short-term
The Centers for Disease Control and Prevention issued an order halting evictions nationwide through the end of the year. This applies to all residential renters in the United States who meet the income requirements of $99,000 for an individual or $198,000 for those filing jointly. To qualify, renters must file sworn declarations attesting that eviction would leave them homeless and that they have attempted to get government assistance for rent or housing.
This will provide short-term relief to many families, but will ultimately just push the wave of evictions back unless Congress passes more relief through legislation. The order takes effect September 4. 
Rent is still owed under the order. And Governor Hutchinson responded to the announcement saying that people should seek rental assistance from community action agencies or other nonprofits that have received grants from the Department of Human Services totaling $4.8 million. The federal government has also issued rental assistance funds to public housing agencies. 
Still no federal COVID-19 legislation
Congress has still not passed its next round of COVID-19 relief legislation. The House and Senate have both refused to consider one another's legislation, and talks between Congress and the White House have stalled. Congress is expected to begin the debate again sometime after they return from Labor Day. But there is not a clear timeline. 
In his press conference on Wednesday, the Governor said the federal government needs to come to an agreement. He said he would like the next package to allow for more flexibility on how states can spend CARES Act funding that has already been allocated and extend the deadline for spending those funds. He said that would allow for the state to invest more in high speed broadband access in rural communities and provide funding for vaccine distribution. The Governor would also like to see an extension of the increased FMAP, the matching rate for Medicaid. Because of increased expenses from virtual learning and in-class instruction, he hopes that the next federal bill will include more education funding, as well.
To avoid a government shutdown, next month Congress must also pass legislation to fund the federal government. It has been reported that House Speaker Nancy Pelosi and the White House have reached a tentative agreement on a continuing resolution to keep the government running.
Supplemental unemployment insurance payments
As the state awaits action in Congress, it is set to begin distributing smaller unemployment supplemental payments this month. Part of President Trump's executive order called for FEMA funds to be redirected to states to pay for a temporary increase in unemployment benefits. Arkansas was approved for the Lost Wages grant last month. This will provide an $300 extra in unemployment benefits per week, though the Governor warned that it will be "weeks" before workers see these benefits because of changes that must be made to the state's system. The payments are expected to last for six weeks.
Redistricting and ranked-choice voting ballot measures ruled invalid
Last week the Arkansas State Supreme Court ruled invalid measures that would have created a ranked-choice voting system and created a citizens' redistricting commission. The court ruled that paid canvassers hired by both campaigns to collect signatures had not "passed" required background checks. However in a dissenting opinion, Justice Jo Hart argued that there is no settled legal definition for "passing" a background check, and she believed the law requiring background checks for paid canvassers was unconstitutional. The League of Women Voters of Arkansas filed a lawsuit Wednesday in federal court to put the redistricting measure on the ballot. Arkansas Advocates has written a blog on how redistricting has been used in recent years as one modern form of voter suppression. 
New ballot committee formed to opposed Issue 1, the highway tax
An opposition group has formed to oppose Issue 1, a measure that will be on the ballot to ask voters to approve a permanent 0.5 percent state sales tax to pay for highway maintenance and repairs. The group, No Permanent Tax. No on Issue 1, is being led by Americans for Prosperity. 
Legislative committee discusses drug efficacy for COVD-19 treatment
On Monday, the Health Insurance and Commerce committee of the Arkansas State Legislature discussed several ways that COVID-19 has impacted Arkansas. A major component of the meeting was dedicated to discussing hydroxychloroquine, a drug that is used to treat arthritis and lupus. Several legislators at the meeting posed questions to the Secretary of Health, Dr. Jose Romero, about why the drug is not being used to treat COVID-19 patients. Two prominent figures who are proponents of using hydroxychloroquine as a remedy for COVID-19, Dr. Simone Gold (Frontier Doctors of America) and Dr. Robin Armstrong (Armstrong Medical Group), testified before the committee. In response to questions about the drug, Dr. Romero reiterated that the FDA  rescinded its emergency approval of hydroxychloroquine and chloroquine as drugs to be used for COVID-19. Based on this, Dr. Romero explained, the Arkansas Department of Health cannot and does not endorse using hydroxychloroquine for that purpose. 
Border patrol agents not qualified to assess validity of asylum claims
A federal judge issued a temporary injunction this week to a policy change made early this year to the asylum process that had allowed Customs and Border Patrol Agents to make an initial ruling on the validity of asylum claims. The judge found that the training of CBP agents was inadequate. If an agent did not find a claim credible the person seeking asylum was deported without further review of their case. However, all asylum cases have already been temporarily halted due to COVID-19. Read more from NPR. 
As news of police violence continues, data are hard to come by
Another police shooting has gained national attention. Last week, in Kenosha, Wisconsin, Jacob Blake was shot in the back seven times by a police officer as Blake entered his car where his three young children were sitting. Blake survived the shooting and is now partially paralyzed. News was also released from New York state this week of Daniel Prude's death in March after being asphyxiated when police put a "spit-hood" on him to prevent him from spitting on them while they pinned him to the ground. 
According to the site Mapping Police Violence, 765 people have been killed by police this year. Nationwide, Mapping Police Violence found Black people are 3 times more likely to be killed by police than White people. And Black people who are killed by police are 1.3 times more likely to be unarmed when they are killed compared to White people who are killed by police. However, without required reporting, it is difficult to get data on police violence and killings. The Federal Bureau of Investigations created a database to collect use-of-force data from law enforcement agencies. But in 2019, the first year data was collected, only 41 percent of agencies participated in the optional program.
Locally, the Arkansas Times reported that a complaint has been issued against Arkansas State Police and Trooper Steven Peyton after Marion Humphrey Jr. was pulled over by the state trooper for changing lanes too quickly. Humphrey's rental vehicle that he was using to move was searched while Humphrey was handcuffed in the back of the police vehicle for an hour. Nothing was found. And yesterday, following the vandalism in Little Rock and North Little Rock of police vehicles, court buildings, and the Fallen Officers Memorial, Little Rock Police Chief Keith Humphrey said the crimes will be investigated under the city's enhanced hate-crime law.
State revenue above projections
On Wednesday, Governor Hutchinson announced state revenue for August was higher than projected. Net available revenue in August was $41 million above what had been forecasted. For the year so far, net available revenue is $93.7 million above what had been projected. 
Arkansas awarded grant for substance use disorder research 
On Monday, Governor Hutchinson announced that the State of Arkansas had received a grant for $21 million from the Substance Abuse and Mental Health Services Administration to increase access to medication-assisted treatment for opioid use disorders and expand treatment options. The grant will fund projects that focus on prevention, treatment, and recovery over the next two years. 
Upcoming virtual events
Missed our Immigrant Health Forum? You can watch the recording here.
Health Care Policy Basics
Want to learn the basics about health care policy to help you in your advocacy efforts? On Tuesday, September 8 from 6:00pm-7:00pm, join Arkansas Advocates' health policy team, Loretta Alexander and Josh Hall for a crash course in:
Arkansas Works; ARKids First; Medicaid and Medicare; Arkansas Department of Health; Arkansas Department of Human Services; Minority Health Commission; adverse childhood experiences; work reporting requirements; access to care; health disparities; and more.
After this webinar you will have the foundational knowledge you need to understand important debates happening at the state and nation's capitol and strengthen your advocacy efforts.
Register to watch on Zoom or watch live on Facebook.
AR Kids Count Coalition, Delta Arkansas Policy Discussion
Tuesday, September 15 from 6:00pm-7:00pm
Learn more and register
AR Kids Count Coalition, Children's Policy Summit
Tuesday, November 17 to Thursday, November 19
Learn more and register