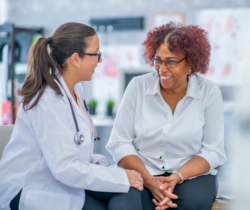 On April 12, during Black Maternal Health Week, Arkansas Advocates for Children and Families hosted a forum on the current status of Black women's health in Arkansas. This forum addressed the maternal mortality and morbidity crisis and explored additional health disparities that affect Black women. Arkansas must first acknowledge that disparities exist if we are to create the changes needed to reduce or eliminate them.
Heart Disease and Stroke
Nationally, heart disease kills around 50,000 Black women each year. In the United States, heart disease and stroke are the number one killers of Black women. Black women are also twice as likely to be at risk for stroke and more likely to die at an earlier age compared to women of other races. In Arkansas, heart disease disproportionately impacts Black Women compared to White women. Between 2011-2015, the heart disease mortality rate for Black women was 209.1, compared to 171.1 for White women.
Diabetes
The prevalence of diabetes is twice the rate in Black women than in non-Hispanic White women. Environmental factors contribute to a person developing type 2 diabetes. The daily barriers faced by Black women make it more difficult for them to prevent or manage diabetes. Per America's Health Rankings for 2020, the rate of diabetes in Arkansas was 13.6% compared to the national rate of 10.7%. For Black Arkansans, the rate of diabetes was 18.7% compared to 13.3% for White Arkansans. Also, from 2011-2015, the age-adjusted diabetes mortality rate for Black women in Arkansas was 45.2 per 100,000 compared to 17.9 for White women.
Maternal Mortality and Morbidity
Black women are more likely to have a high-risk pregnancy because they are more likely to have a pre-existing chronic illness prior to becoming pregnant. Black women are three to four times more likely than White women to experience a pregnancy-related death. In 2018, Black women in Arkansas were 2.2 times as likely to die from pregnancy-related causes than White non-Hispanic women.
Black infants also suffer disparities after being birthed into this world. Black infants are the most at risk of dying within 28 days after discharge from the medical setting or suffering neonatal morbidities in the time between birth and discharge. Black infants are also at twice the risk of death compared with White infants within their first year of life.
Breast and Cervical Cancers
Cancer is the second leading cause of death in the United States. Black women are 40% more likely to die of breast cancer than White women. Black women have the lowest survival rate at each stage of diagnosis. They are also more likely to be diagnosed with triple-negative breast cancer, a form of breast cancer that can only be treated with limited types of medications. In 2014-2015, the incidence rate of new cases of breast cancer in Arkansas was118.3 per 100,000 in Black women compared to 110.4 in White women. Also, the breast cancer death rate for Black women in Arkansas was 29.8 per 100,000 compared to 18.9 for White women.
Black women in this country die from cervical cancer at more than two times the rate of White women. The death rate from cervical cancer for Black women is 41% higher than that of White women. The five-year relative survival rate is 58% for Black women compared to 68% for White women. Black women are also more likely to be diagnosed with advanced cervical cancer than any other racial group. The incidence and mortality of cervical cancer disparities are preventable, and both are associated with socioeconomic status, access to treatment, and utilization of care. In Arkansas, the incidence rate of new cases of cervical cancer was 9.7 per 100,000 in Black women compared to 8.3 in White women for 2014-2015.
Arkansas must make improvements
The health conditions identified are not an exhaustive list of conditions that disproportionately impact Black women in a negative and sometimes fatal manner. As a state, Arkansas must continue to explore areas of improvement for Black women's health and focus on creating sustainable solutions to improve health outcomes for Black women. 
We must develop and implement policies with an intentional racial equity lens. This requires pursuing policy changes that can combat the structural racism that is embedded in our healthcare system and society. Arkansas can work to continue expanding Medicaid benefits to help improve access to healthcare for its residents. Arkansas legislators can work toward improving access to healthcare and combating the state's maternal mortality health crisis by increasing postpartum coverage from 60 days to 12 months. This change will not only affect new mothers, but this change can help to ensure that their babies have healthy mothers to care for them.
Another important change that the state can do to address health inequities is ensuring that there is dedicated funding to increase the number of Black medical professionals in the health field. The disparities in the state are alarming, and funding should be allocated toward recruiting and ensuring equal access to educational programs focused on the medical field.
These are just a few strategies that can be implemented to improve the health of Black women in Arkansas and improve the overall health equity outcomes for the state. Community leaders, legislators, and health care professionals must all work together in order to create a healthier Arkansas.