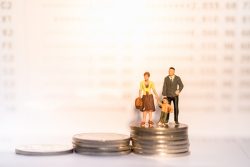 State agencies will be closely watching events at the state Capitol starting Monday – the first day of the "Fiscal Session." Votes cast during that time will determine which state agencies get new funding to keep up with the costs of providing the services they deliver, and which get nothing. Because the legislature also has the power to cut funding, this is a nerve-wracking time for programs that rely on state funds to provide critical services to Arkansas children (think pre-K, foster care, juvenile justice, and schools, to name a few).
The Arkansas legislature meets every year to decide how to spend the tax revenue that we all contribute to, but some years are busier than others. In even numbered years, like this one, they hold a shorter – and smaller in scope – session in which they focus only on budget issues. It's possible for the legislature to introduce non-budget bills in a fiscal session, but those bills need a two-thirds vote to be considered. Next year, in 2019, the state legislature will gather for the longer and more intensive "General Session" in which all types of bills, in addition to budget-related bills, will be heard.
The Fiscal Session is an opportunity for more minor course corrections in the budget. It's a chance for legislators to make adjustments in between the more comprehensive general sessions. Gov. Hutchinson already released his proposed budget on January 10 (see our analysis of that plan here). Starting on Monday, the legislature will hold hearings to approve or make changes to that budget and will also begin to approve bills that give state agencies the funding they need to continue operating. The session will last 30 days unless legislators vote to extend it.
Context matters when you're following the debate at this year's fiscal session hearings. First, tax cuts over the past several legislative sessions mean that we have a lot less general revenue to work with, and a lot of state agencies will have to do more with less. Policy changes at the federal level also cast a shadow over our state budget, especially in terms of health care (read more here). You can access the full calendar of legislative events at the Arkansas State Legislative website here. Stay tuned for our take on fiscal session updates by following us on Facebook and Twitter, and by signing up for our e-alerts.